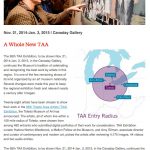 New in the past several days, The Toledo Museum of Art has completely rewritten its 95th Toledo Area Artists Exhibition webpage. Why did the museum feel the need to rewrite a webpage that it posted for the show in July after the winners were chosen?
Maybe the museum doesn't want people to have the facts about the show, that out of 28 accepted artists, only 11 are from the Toledo area comprising the 17 counties in Northwest Ohio and two counties in Southeast Michigan, and that of the shamefully low number of area artists chosen, only two are women. Last year 64 Toledo area artists were in the show and 39 were women. Of this year's lucky 11 Toledo area artists;  two are museum employees, a spouse of an employee, a former employee, the two most recent past presidents of the Toledo Federation of Artists, as well as a close friend of museum staff.
Mention of the history and great tradition of our 95 year old TAA show has been exorcised from the webpage as it had appeared a week or so ago, including the details that the 95th TAA "continues the Museum's tradition of celebration and recognizing the best work by artists in this region" and that "it is one of the few remaining shows of its kind organized by an art museum nationally."
Also removed is the statement that 28 artists were chosen from 462 entrants, with the link to a page listing the artists and their resident cities. This page is still on their server, but you have to search for it. Good luck finding it.
Some time before October 9, their statement that TMA associate director and curator of contemporary and modern art, Amy Gilman was one of the judges (along with Mellon Fellow Halona Norton-Westbrook) that picked the artists was removed from the page.  (see, my October 4 blog post in regard to Amy Gilman.) In total, since the museum first posted the page in July, the page went from having four paragraphs down to one.
All of this informative history has been shoved down the memory hole. The museum's new TAA webpage has transformed (twisted) our wonderful TAA show into a new Frankenstein. The new TAA show is described with mysteriously fluffy verbiage such as, "tension between the urban vs. suburban" and "class struggle in Middle America and war."
Also, The Toledo Museum of Art disclosed for the first time in their public announcements that the "money awards" judge, Christopher Knight, has worked at the museum. Draw your own conclusions.