Just this past year, the French newspaper, Le Monde, reported that they are watching us here in Toledo, because our lake is letting off fluorescent glows into space. That's our Lake Erie. It's a serious issue for us.  It's the water we drink, and we are 60% water.
Our problem is noted all the way across the Atlantic Ocean because in the scheme of things, it's France's problem too, as we share the planet with them.
Since we are connected to France via satellites and water, I was eager to find a Pierre Gentieu connection to Toledo as well. Pierre Gentieu is my French immigrant ancestor.
My branch of the family ended up in Toledo when my grandfather, an engineer, took a temporary assignment in Toledo in 1938, to work on the then-new Toledo sewage system. Yes, a water connection, how weird is that. My father met my mother during his last month of high school. Sparks flew, so voila here I am, the third child in the family, born and raised in Toledo, Ohio.
Pierre Gentieu (1842-1930) is my great great grandfather, Civil War veteran, artist, and historically recognized photographer. He was a loyal employee of the DuPont Powder Company for 35 years. DuPont made gunpowder on the Brandywine Creek in northern Delaware.  My ancestor worked in the DuPont office as the head storekeeper.  Independently, he made photographs with his 8×10 view camera. He photographed the heyday of the powder mills against the old-world backdrop of the historic Brandywine, expressing the lifestyle of the workers and families, many who were immigrants. He is beloved by the Hagley Museum and Library in Wilmington, Delaware. Without his photos to show how things were, the Hagley's living history museum of the powder mills wouldn't be nearly as authentic and vibrant as it is today.
This photo is Pierre at the Sportsmen's Exposition (an early trade show) at Madison Garden in New York and he is holding an illustration by Edmund H. Osthaus (1858-1928), who became a famous artist of Toledo. Edmund H. Osthaus was one of the artists who dreamed up the Toledo Museum of Art. Osthaus was a member of the Tile Club and has paintings in the collection of the Toledo Museum of Art.
Edmund H. Osthaus, at the invitation of David R. Locke (creator of the Petroleum V. Nasby letters), came to Toledo in 1886 at the age of 28 to head up the Toledo Academy of Fine Arts.
In the 1890's, at the beginning of Du Pont's smokeless powder manufacturing, Edmund H. Osthaus was commissioned by DuPont to make paintings of hunting dogs for promotional purposes. He received a lot of exposure from the DuPont smokeless powder posters, calendars and advertisements, which helped make him famous for his dog paintings. The association with DuPont lasted over 20 years, until after the first world war, when DuPont transitioned from making powder to making chemicals.
My educated guess is that Pierre sometimes worked with Edmund H. Osthaus as a representative of DuPont in regard to his commissions. Pierre was close to the du Ponts and obviously handled some promotional aspects for the company, since he was the spokesman at the early Sportsmen's Expositions at Madison Square Garden for several years. If Pierre had a professional association with Osthaus, then Pierre is part of the story of Toledo's famous dog painter's work, and in that way, he is part of the story of the Toledo Museum of Art.
It is interesting to me that Osthaus was alive when he influenced the making of the Toledo Museum of Art. Pierre had been dead for 27 years but his body of work influenced the development of a brand-new museum in 1957, the Hagley Museum and Library, a museum of industrial history.
Edmund H. Osthaus's work for the DuPont Powder Company is shown above (courtesy of the Hagley Museum and Library), and on this artistsoftoledo page, here.
Read more about Pierre Gentieu on pierrepenny.com.
BREAKING NEWS: A Civil War connection. Pierre fought for the Union, (same Union that Toledoans fought for in the Civil War.) Pierre is being honored this year with taps and a musket salute over his grave. What happens in war, as what happens in water and art, connects everything. Time and space, past and future, and dogs, coming together in the river of life.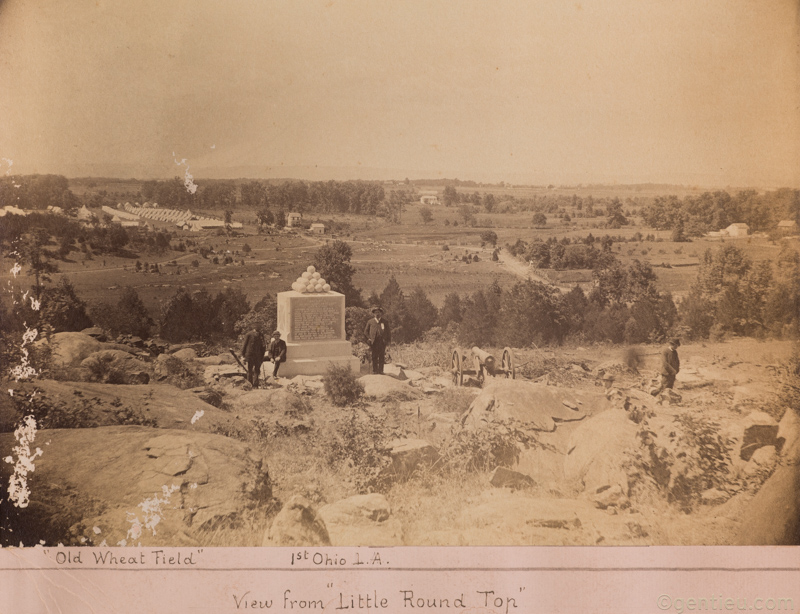 Monument of the First Ohio Light Artillery at Gettysburg. Photo by Pierre Gentieu, 1885