Right after the new year, completely out of the blue, came this rich story of a French medieval house in Ottawa Hills — one of the first homes in the Village. Nobody has lived in it for a decade or two, and now its fate is coming to an apex.
It was Ward and Mariam Canaday's house, built in 1926 by the famous East Coast architect, Frank Forster.
We know Ward Canaday as the "Father of the Jeep." Just a regular guy from a middle class family in Indiana, Ward came to Toledo to work for Willys Overland in 1916 during what was the greatest economic boom time in Toledo's history and he quickly amassed millions with his business genius. (read more here:  The Normandy country house and the Canadays)  He died in 1976 and the Canaday legacy is spread not only throughout Toledo but across the country and the world, and by Ward and Mariam's daughter Doreen's marriage to Lyman Spitzer Jr., even to the universe, but more about what the Canadays left us here: Canadays' Legacy.
Molly Morpeth Canaday, from New Zealand, wife of Ward's brother, Frank, was one of the first artists I put on this website, see here: Molly Morpeth Canaday (1903-1971).
Not only is the architecture from the Middle Ages, with its turrets and towers (originally designed for self-defense in feudal times) and its irregular, multi-colored slate roof suggestive of old French thatched roof dwellings, the interior is equally as interesting. Interior rooms are entered through peeked Gothic doors. Walls are lined with Tudor-style oak beams and Gothic panelling with some walls entirely sheathed in Gothic tapestries; rooms are ventilated through diamond paned casement windows and warmed by Tudor fireplaces; floors covered with fine Ferraghan and Bidjar wool rugs; and the tower room wall frescoed with scenes of yore topped with a time-honored sentiment that was scrawled on the wall of a French dungeon in 1500 — POST TENEBRAS LUX AND DIXISSE ME ALIQUANDO PAENITUIT, TACUISSE NUMQUAM (I have sometimes been punished for speaking, never for keeping still.)
To furnish the house, the young Canaday family traveled to Europe on an ancestor-finding mission and brought back history from England and France. The peaked Gothic doors and much panelling and woodwork were purchased from an old English manor close to the Welsh border.
The epic Canaday story encompasses 500 years of history and the cycle of time (involving at least five dogs, and a cat.) It also concerns the restoration of an ancient temple in Athens, Greece. It touches four corners of the globe, and reaches out to trillions of galaxies through the Hubble Telescope. It's a personal story, one that is irresistible to step into, and one that is easy to relate to in a weird way. (In fact, by my own delving into this story, I found a weird "in-law" relationship to Ward and Mariam Canaday: I discovered that my great great grandfather Pinkerton's sister was married to a Brumback whose brother's granddaughter was the mother of Doreen Canaday's husband, Lyman Spitzer, Jr., the famous astrophysicist who gave us the Hubble telescope and all those amazing images of outer space!)
The Canadays lived in the house for 50 years. Mariam died in 1974 and Ward died in 1976. There was a notable auction in 1977 just before the house was sold, which sold again in 1996. Unoccupied for the past decade or two, the house has just been donated to the art museum, by the death of the third owner, Charles Johnson. It will soon be on the market, and Susan Sterling will be conducting an estate sale.
So has come in 2021 a unique window of time through which to see and understand the rich and legendary history of this house and its deep and surprising connection to us.
To be continued…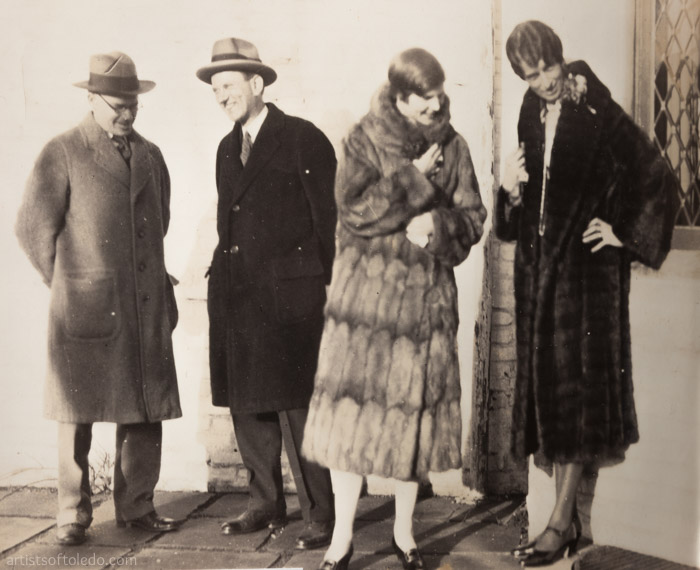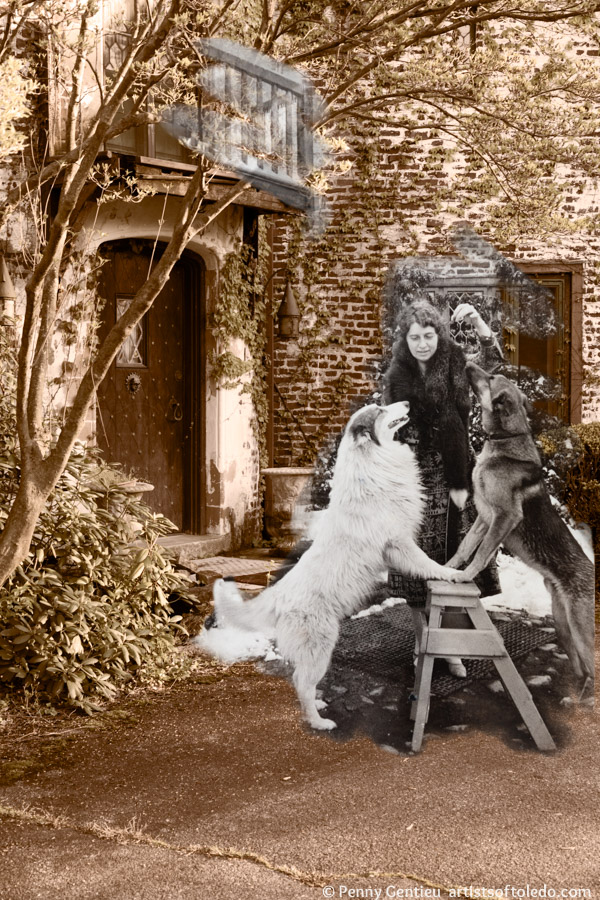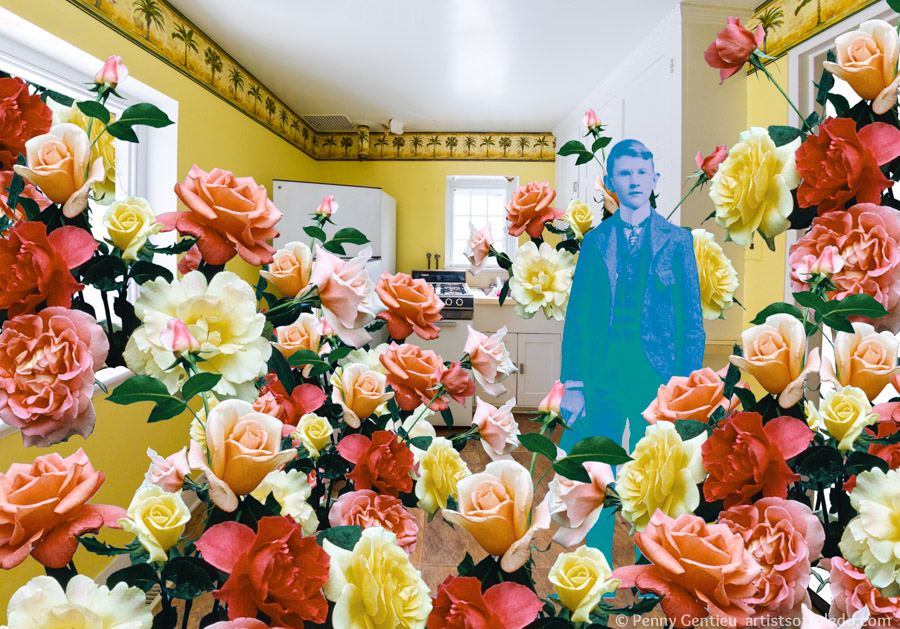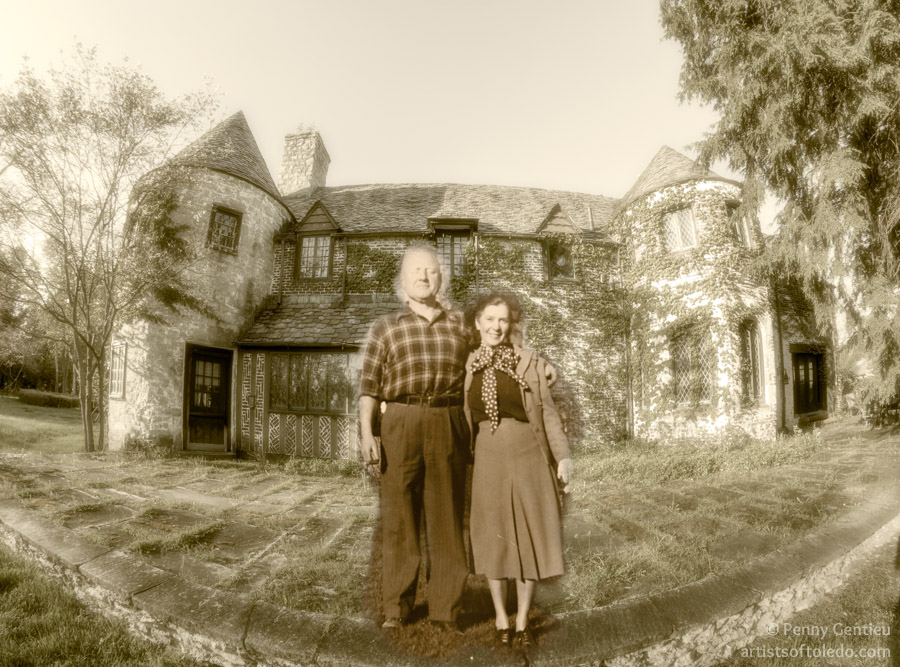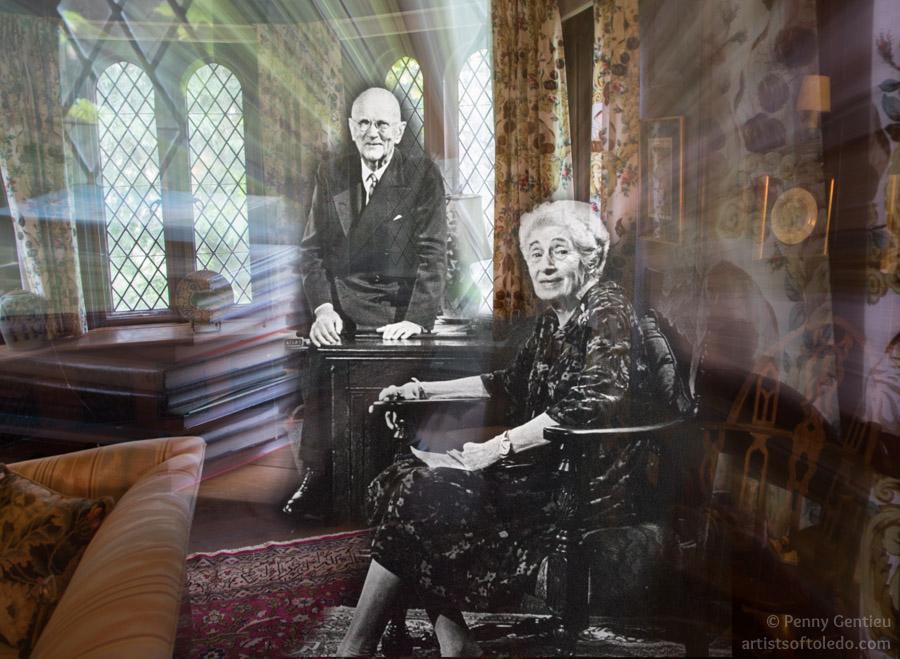 The Seventies, after the Canadays left us, but we've only just begun…