Our lives begin to end when we are silent about things that matter. — MLK
A factual report
Ditch petitions on city homeowners? That's unheard of! And for no good reason! The county will tax us whatever amount they want and take total control of all rivers and streams, that are already well-maintained by the private and public landowners. The county will take 25 feet + 10 feet of land along the stream without payment for the land and tax us for it!
They are doing it under the radar.
Ditch Petition News digs deep into the truth about the overreaching Swan Creek and 10-Mile Creek ditch petitions hoisted upon 127,000 homeowners and their families by Lucas and Fulton counties. Check out our exclusive investigative articles:
If "Golden Rule" Jones was mayor today   Feb. 4, 2022  Imagine if government was operated by the golden rule — Samuel Jones in Toledo, Ohio tried it at the turn of the 20th Century, and he is ranked the fifth best mayor of all time in the United States. He gave us home rule. Remember? Of course not.
To preserve and protect our democracy….  Jan. 12, 2022  Comparing a proper Ohio ditch petition process a few counties over to the improper process going on here in Lucas County. Counties 100 miles apart, the petitions are happening concurrently.
Sunshine and the watershed  Jan. 4, 2022  Why is Lucas County pushing these ditch petitions under the radar without consideration to those 127,000 homeowners affected and by keeping the facts from the public? Because they are unfairly being their own judge and jury, having rigged the system for their own benefit.
Our government today  Dec. 21, 2021  After making a public record request two and a half weeks before, how frustrating it is to try to get public documents from the Lucas County Commissioner's office.
Remonstrance II  Dec. 1, 2021  A similar ditch petition was tried and failed in the past but the county won't let us in on the details (even the date) of that. Toledo should spend the money to curb violence and save our children instead.
Letter to Toledo City Council  Nov. 15, 2021  Lucas County offered no proof that the ditch petitions are necessary and used the river behind wealthy people to justify why 127,000 homeowners should chip into remove a tree on their million-dollar estates. And what about home rule? Our money could be better spent to hire 50 police officers to curb the dramatic rise in crime that is killing our children.
Remonstrance filed with Lucas and Fulton counties  Nov. 3, 2021  Our 99-page remonstrance. It wasn't acknowledged in the minutes, and they told me to come pick it up.
A river is not a ditch  Sept. 28, 2021  About Mike Pniewski, Lucas County Engineer who moonlights nearly full-time teaching Freshman-level classes at the University of Toledo, and the county commissioners give him their blessing, as he spends most of his time for the county pushing ditch petitions. Taxpayers pay him nearly $150,000/year, which is the second highest county salary, after the coroner's salary.
Ned Skeldon, Betty Mauk, and their river legacy  Aug. 26, 2021  A response to the county engineer's outrageous statement that the petitions are needed because the waterways haven't been taken care of since the first settlers came in to the county 75-100 years ago. Ned Skeldon (1924–1988) is the father of water cleanup in Lucas County, as well as the father of Tina Skeldon Wozniak, the President of the Board of Lucas County Commissioners, so it is ironic. Ned Skeldon put the grant system in motion – here's a list of numerous agencies, policies and clean up processes that Ned Skeldon put into motion in the 1970's and continue to work quite well today. 
Who owns Ten-mile Creek?  June 1, 2021  Follow the river  — the City of Sylvania, a golf course, the Franciscan Sisters, the Boy Scouts of America, the Metroparks, Ottawa Hills, University of Toledo, the City of Toledo, a few factories, and a handful of rich people own the land underneath Ten Mile Creek, so why are 127,000 homeowners being petitioned to pay for the river's maintenance, when it is the responsibility of these entities to keep their stretch of the river clean? And don't we also pay taxes for most of these entities that already cover the cost of maintenance? And – they are taking our property rights, too?
A blank check  June 3, 2021  Details of the county in pursuit of puppet petitioners to sponsor their watershed ditch petitions affecting 127,000 homeowners. No thanks to Michael Hood of Spencer Township for being the 10-Mile Creek ditch petition puppet. Now we have to deal with Michael Hood running for Lucas County Commissioner.
Ten-mile Creek ripoff  May 26, 2021  Read this first for details on the bad ditch petitions, why the county is doing them, and why they are wrong.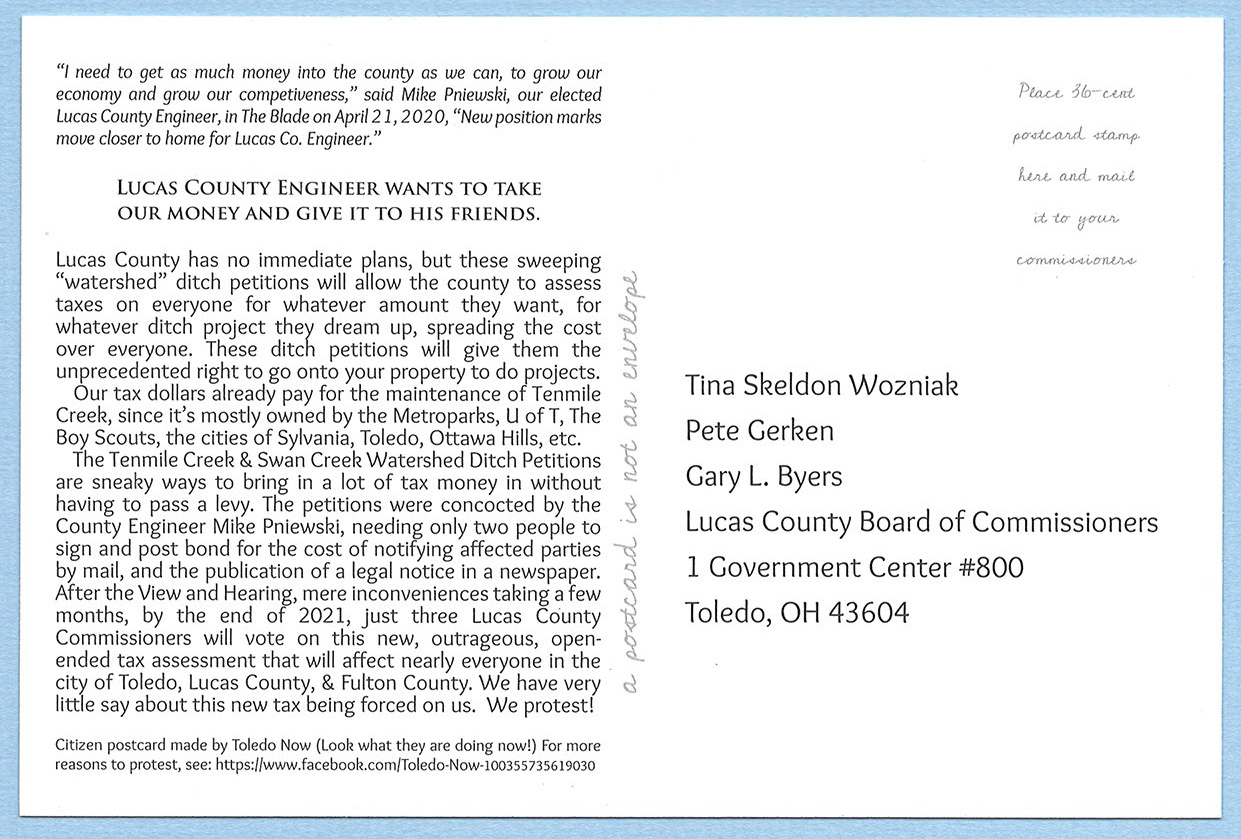 ---