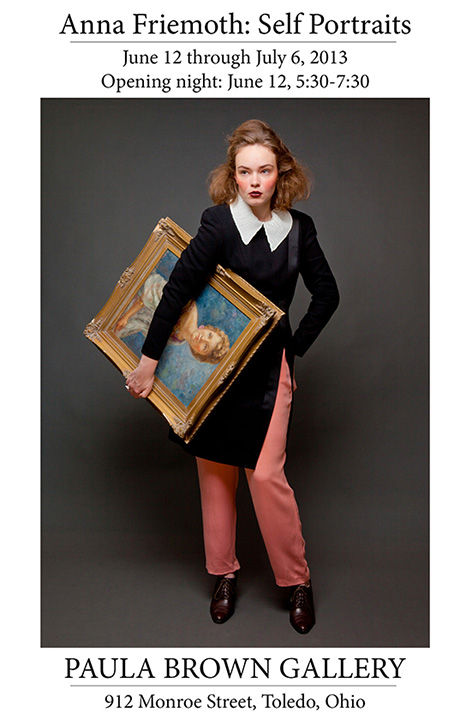 That's my daughter, Anna Friemoth — and the painting under her arm was made by my mother Audrey Gentieu of my mother's Aunt Audrey.
It's not enough that Anna entered it in the Toledo Area Artists Exhibition at the Toledo Museum of Art this year and it won a prize — the piece sold at the exhibition preview, and it had a red dot on it the entire time it was up! It's also in her artist monograph, MATTE Magazine Issue 10, acquired by the Museum of Modern Art for their periodicals collection! Now it's in her one-person show at the Paula Brown Gallery, opening June 12, that runs through July 6!
Anna, bring back your grandmother's painting! You can have it later — I'll put it in my will!
Anna Friemoth: Self Portraits
June 12 through July 6, 2013
Opening Reception: June 12 from 5:30 to 7:30
PAULA BROWN GALLERY
912 Monroe Street, Toledo, Ohio  43604
Tel 419.241.2822  Fax 419.241.8107
GALLERY HOURS:
10am – 5pm, Mon – Fri 10am – 3pm, Saturday. Closed on Sundays.