What will happen to this landmark house?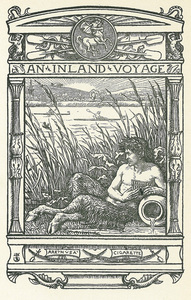 Is life the car or the road? If you travel hopefully, and if all the stars align, the journey can be enchanting with many adventures along the way. If a house is like a car, for now at home is a safer place from which to travel. Here's to a fine treasure hunt. Come right in and take a trip through this arty odyssey of space, time, and old-style riches.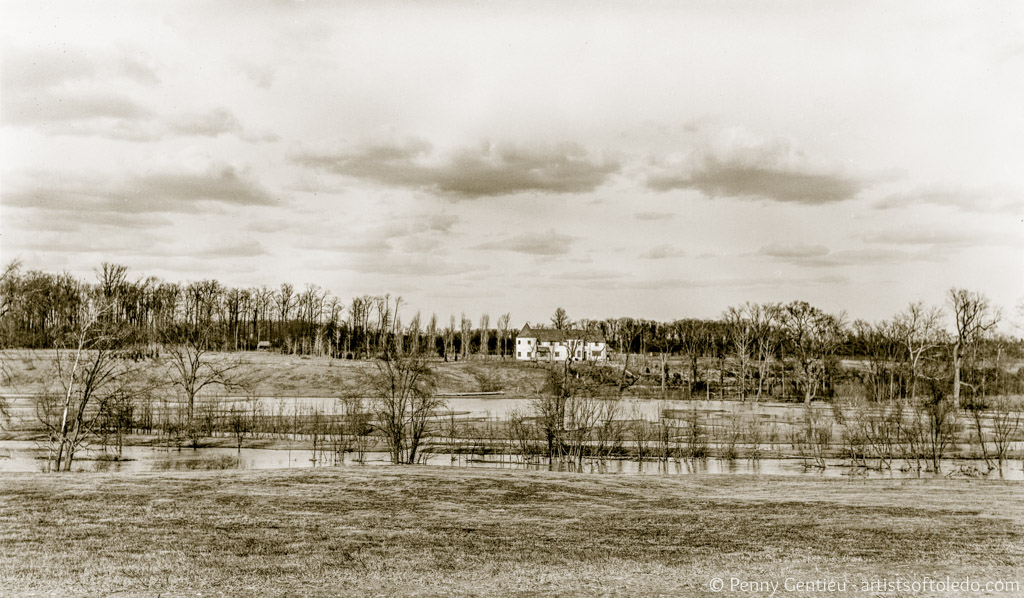 Who doesn't love this house?  It's a work of art! – the illusive castle-like house straight out of the Middle Ages hidden behind the tall evergreens, along the rambling Ten Mile Creek in Ottawa Hills. The house was built on 80 acres — imagine, three Olander Lake Parks set side by side, or if you'd rather, a grid of 60 football fields. Over time, mostly in the past 50 years, this acreage of an old cornfield has yielded to the development of multiple mansions in the hood, hence what is known as the Estate Section.
The house has an intriguing story. Doreen Canaday Spitzer, the only child of Ward and Mariam Canaday, wrote a good book about her parents, who built the house and lived there for 50 years. The title of the book is By One and One.
The house was built in 1926 by the worldly iconic industrialist, Ward Canaday, dubbed "Father of the Jeep," whose humble beginnings were in advertising. He steered the operation of the Willys-Overland Company, which was Toledo's largest employer for several decades and made Toledo famous for the Jeep.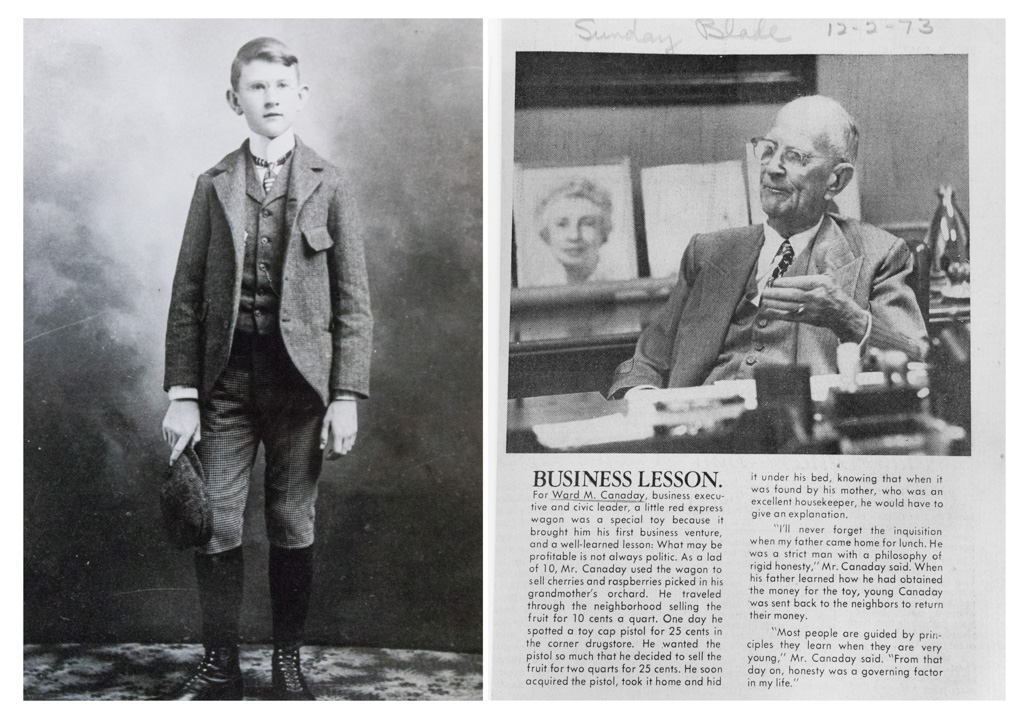 Born in New Castle, Indiana on Dec 12, 1885, Ward was the oldest of four boys in a struggling middle class family. His father, a bookkeeper at a bank, taught him to literally count and save every penny, and to be careful with business. Ward started out as a paperboy, and that is how he learned how to collect money. "He learned who the slow payers were, who made excuses, and how to handle them." (And how you handle them is by showing up at their door on the day it's due.) He saved enough money to go to college and planned on going to MIT but was late for the start of the semester, so he enrolled at Harvard instead, where he graduated in 1907.
Ward Canaday had a trademark dimpled smile and was quite charming. His list of college-era maxims included "flattery is the elixir of life," and "So live your life each day that you can look any damn man in the eye and tell him to go to hell."
In 1912, Ward married Mariam Coffin, a bright, worldly woman from East Orange, New Jersey. She was a 1906 graduate of Bryn Mawr and daughter of a financial executive at Standard Oil working in the New York office. The profession of her father was true to the origin of the surname, Coffin, as it is derived from coffreur, having Normandy beginnings meaning the carrier of the box from which to pay the King's soldiers. Doreen was born in 1914. Mariam's dream was to live in New York, so for the first eight years in Toledo, the young family rented and did not buy.

In the early years of marriage, Ward was employed in his home town, New Castle, at Hoosier Kitchen Cabinet Co. in sales and advertising. He was quite clever. He devised a way for people to buy the cabinets on credit— $1 down and a dollar a month. His advertising talent earned him a position at the Willys Overland Company, which brought him to Toledo in 1916. His meteoric rise to the top commenced immediately. He was buying stock in the company even before he moved the family to Toledo. They rented a stucco duplex at 2044 Glenwood Ave. in the Old West End, just a block away from the beautiful new art museum.
Ward was president of the Toledo Advertising Club by 1918. World War I was raging and the Spanish Flu pandemic followed it. One of Doreen's earliest memories, when she was almost age 4, was Armistice Day, November 11, 1918. Her mother said to her that morning, "I'm going to spank you very hard. You have not done anything wrong. This is not a punishment, it is an emphasis."
The Willys Overland Company was an ever-changing company, and Ward took bold opportunity to shape it at every turn. In 1919, the company was restructured and the advertising division was spun off to the United States Advertising Company, operated by Ward Canaday. He made about 3% of the ad budget for all business brought in, and in 1925 he was handling a two million dollar business. He had personally saved a million dollars and was working on a second million by age 40. (A million dollars in 1920 would be worth $13,023,700 today.) His brother Frank said, "His emphasis was shifting from advertising techniques and objectives to the fascinating pursuit of money as an object itself." Ward used the best talent and artwork for the ads, such as Frederick Waugh's seascape, Atlantic, that he captioned in a 1924 ad, "Oceans of Power" with a message that "surging, irresistible power lives in the Overland engine."
(Incidentally, Ward's ads were displayed in a nearby gallery during the Life Is a Highway: Art and American Car Culture exhibition at the Toledo Museum of Art in 2019.)
"The 1920's and Ward's advertising campaign helped push W-O to third place, and the company's success, plus the fabulous "market," remade a faltering Toledo and made Ward Canaday," Frank said.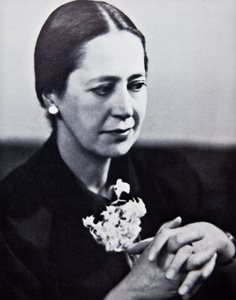 Frank Canaday, in 1923, worked for British American Tobacco Company, in Shanghai. By 1926, he was working for Ward. Frank loved Ward's house and in 1932 he got married in it. He married an artist from New Zealand and brought her to live in Toledo. Her name is Molly Morpeth Canaday and she was an early discovery on this Artists of Toledo website.
Life is what happens to you when you're busy making other plans*
Ward and Mariam's original life goal was to invest enough money that they could live off of it and not have to work (say like $300,000 per year in today's dollars), and so that if Ward made his mark, he could get out of the rat race. But Ward kept at it, making mark after mark. The realization of the futility of their early goal came when Ward at age 37 was an appendectomy patient laid up in a hospital in New York. He had that feeling – "how easily the harness of life can loosen when one steps momentarily aside from the main highway."  
Ward had the Midas touch – he was  a money-making genius, willing to be lucky at the right place at the right time – Toledo, exactly one century ago.
Canaday's business was booming – it was the Roaring Twenties – so the Canadays decided that Toledo would be where they would lay down their roots. They chose to build a house in John North Willys' new, 134,000 acre development called Ottawa Hills. In June 1924 the Canadays bought 80 acres of an empty cornfield beside a forest along the Ten Mile Creek, near the Riding Club. They hired New York architect Frank Forster, known for the artful mansions and castles he built for wealthy residents of Long Island's North Shore and towns along the Hudson. The ground was broken in the spring of 1925.  For the concept of this new home, Ward and Mariam drew inspiration from their family roots and built a sprawling Normandy farmhouse furnished with items that they picked out on a trip to Europe that summer "to look for ancestors and buy furnishings for the house."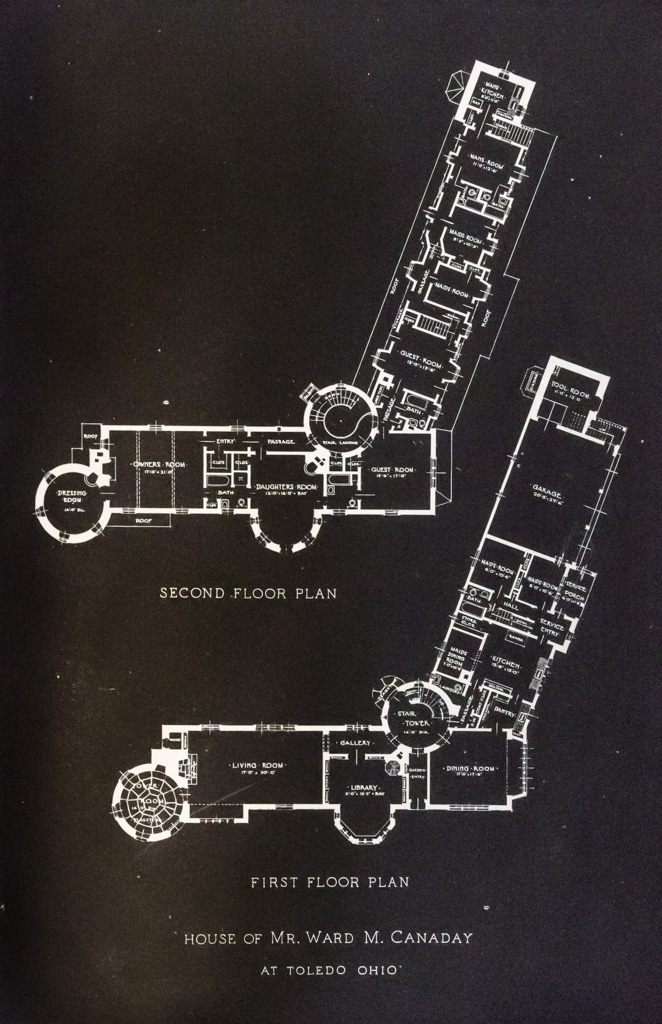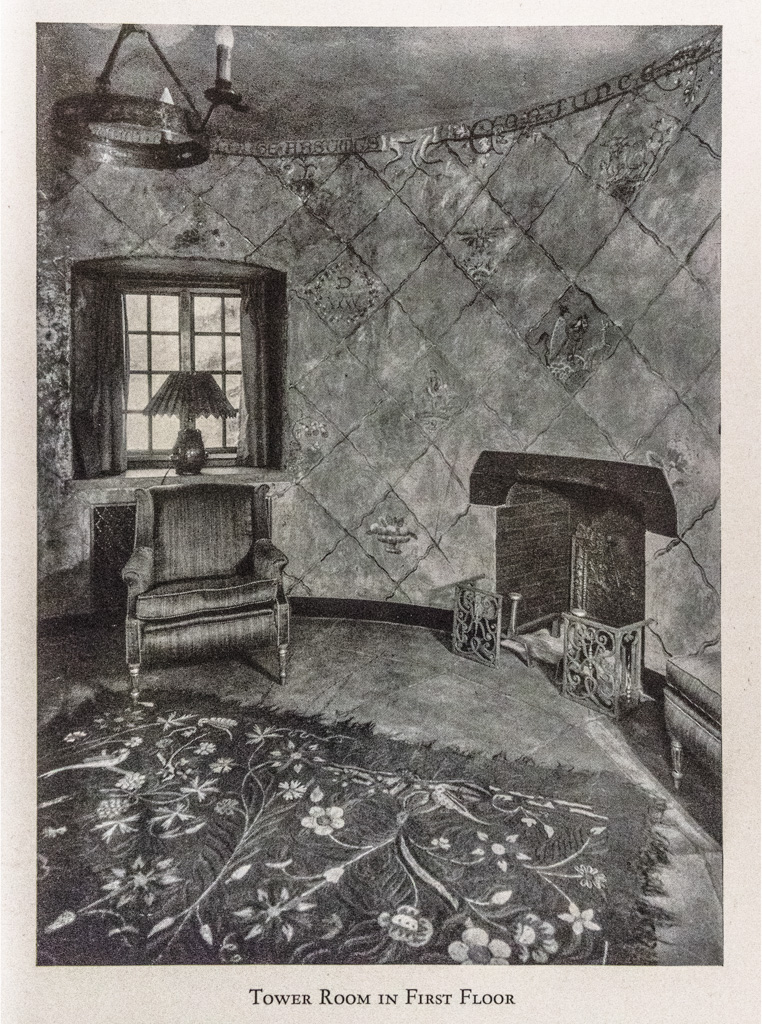 Post tenebras lux and Dixisse me aliquando paenituit, tacuisse numquam
Around the tower room, just under the ceiling, this motto was painted, translated, I have sometimes been punished for speaking, never for keeping still. It was inscribed on the wall of the dungeon at Loches by Ludovico Sforza, who was imprisoned in 1500 by Louis XII of France.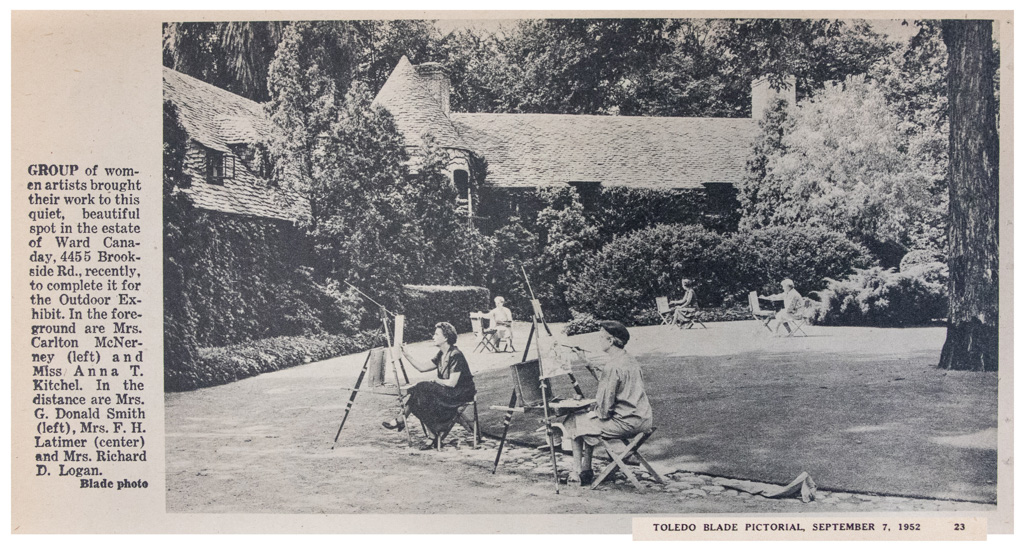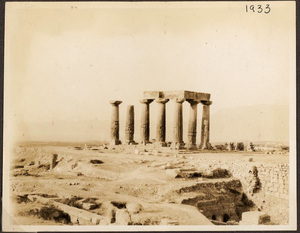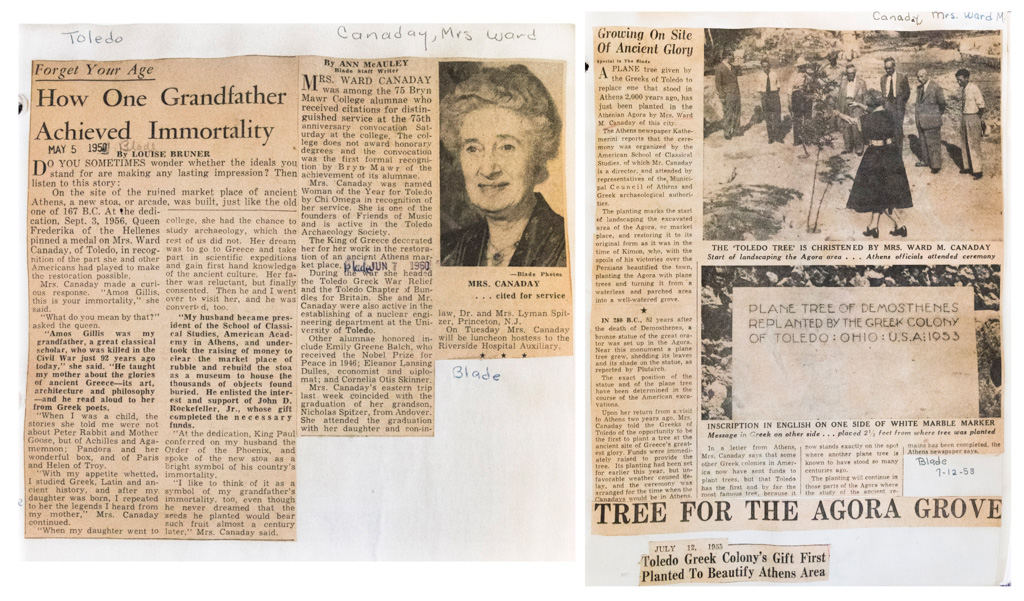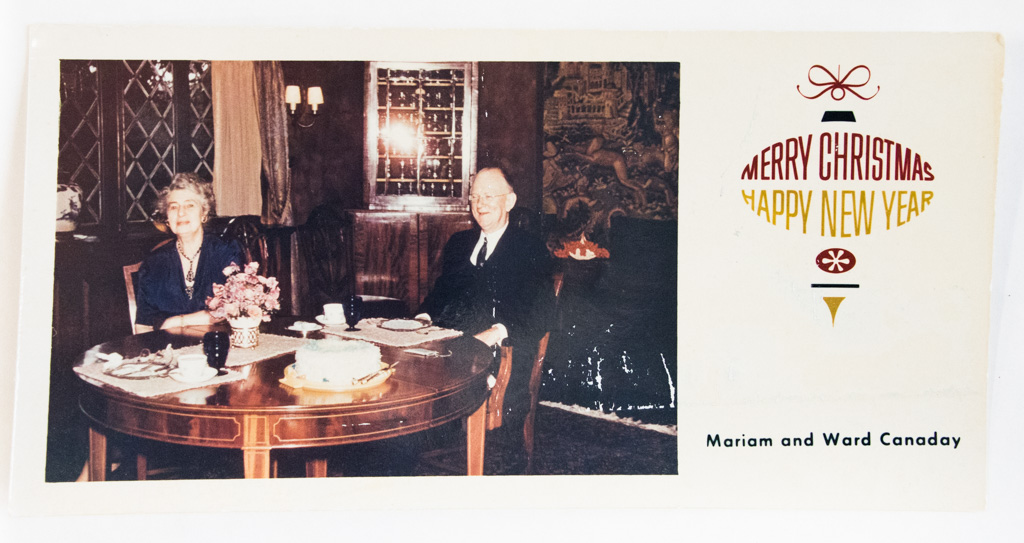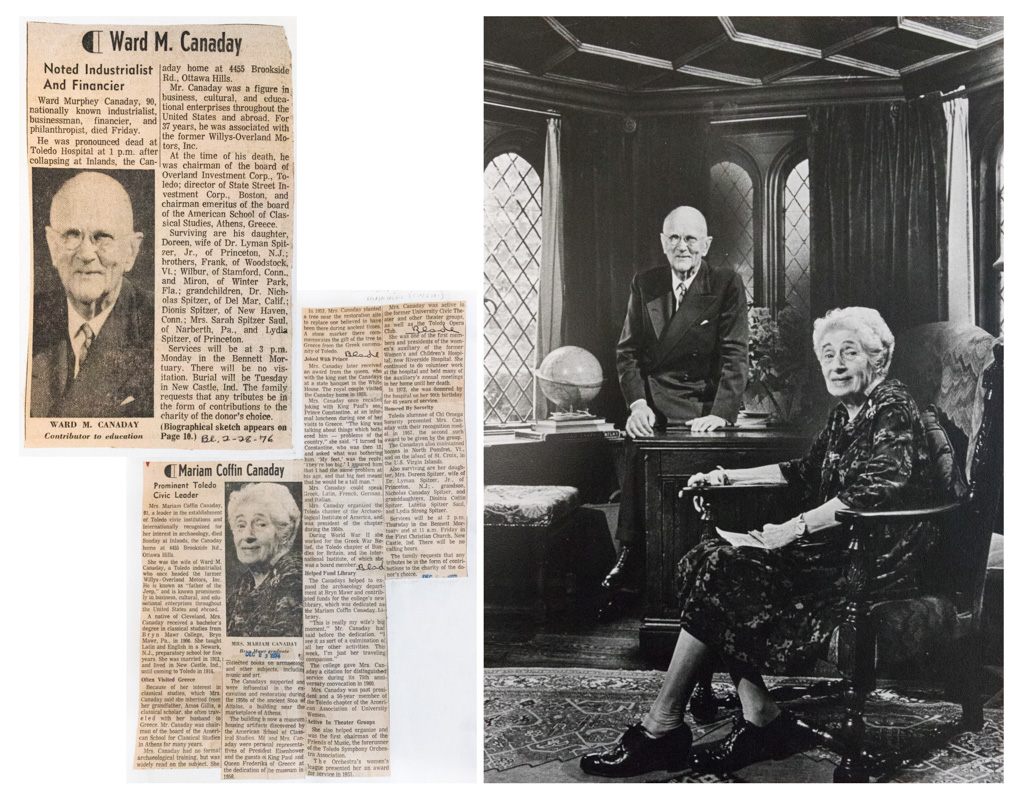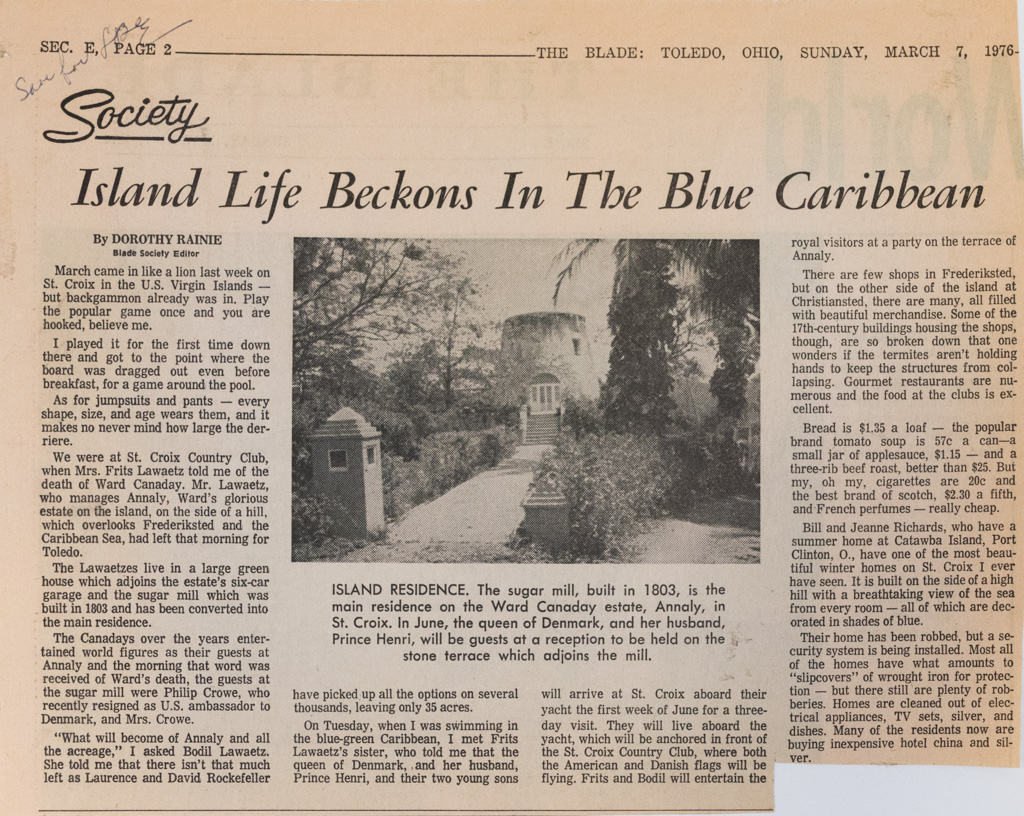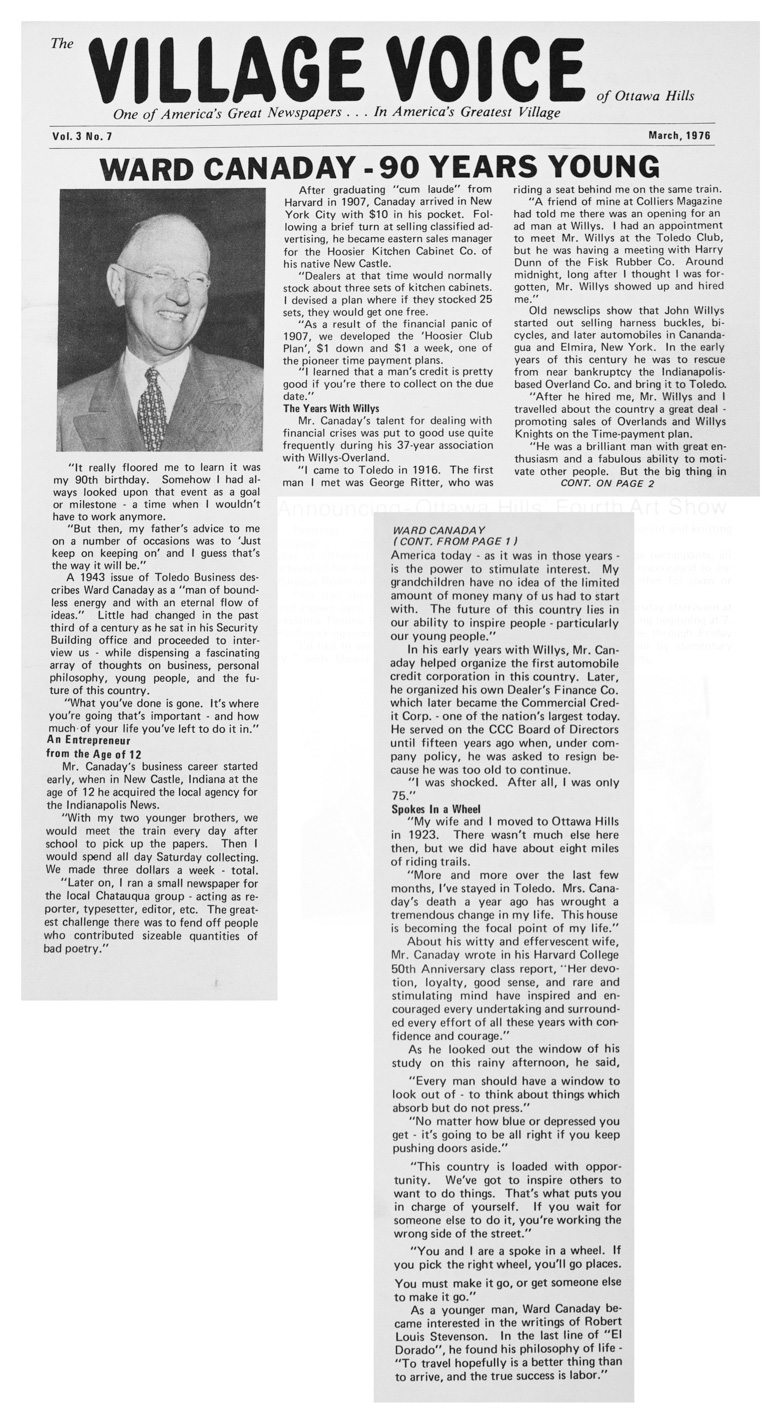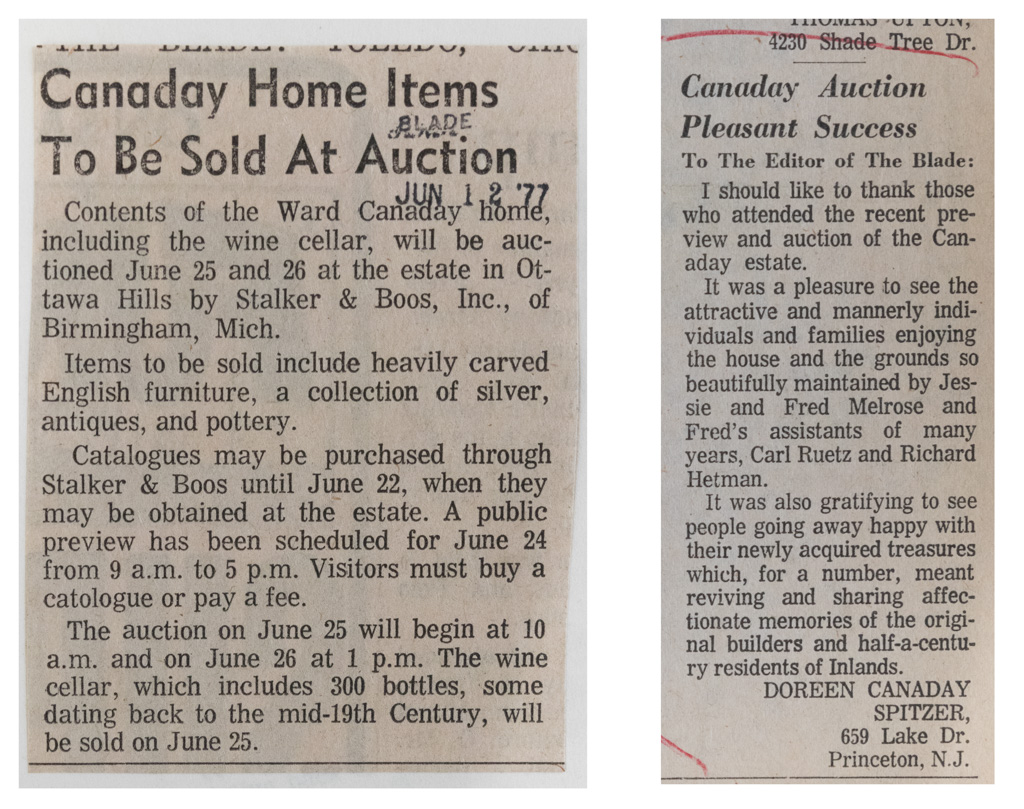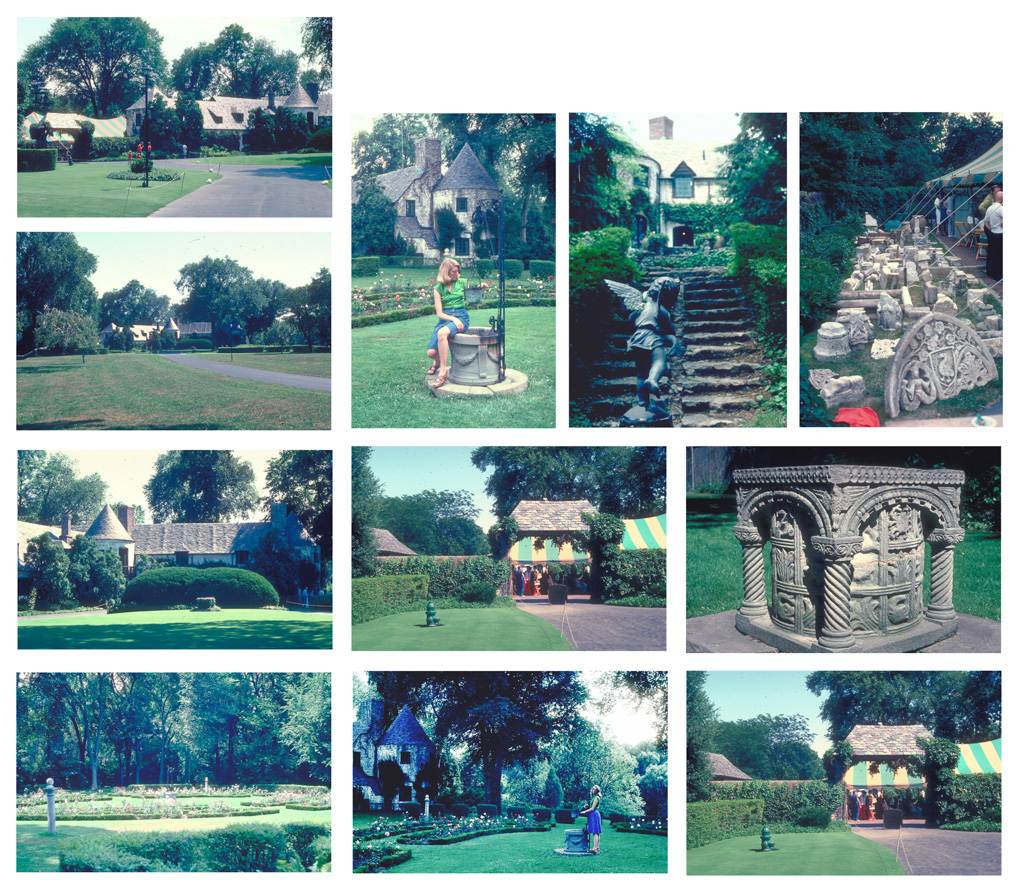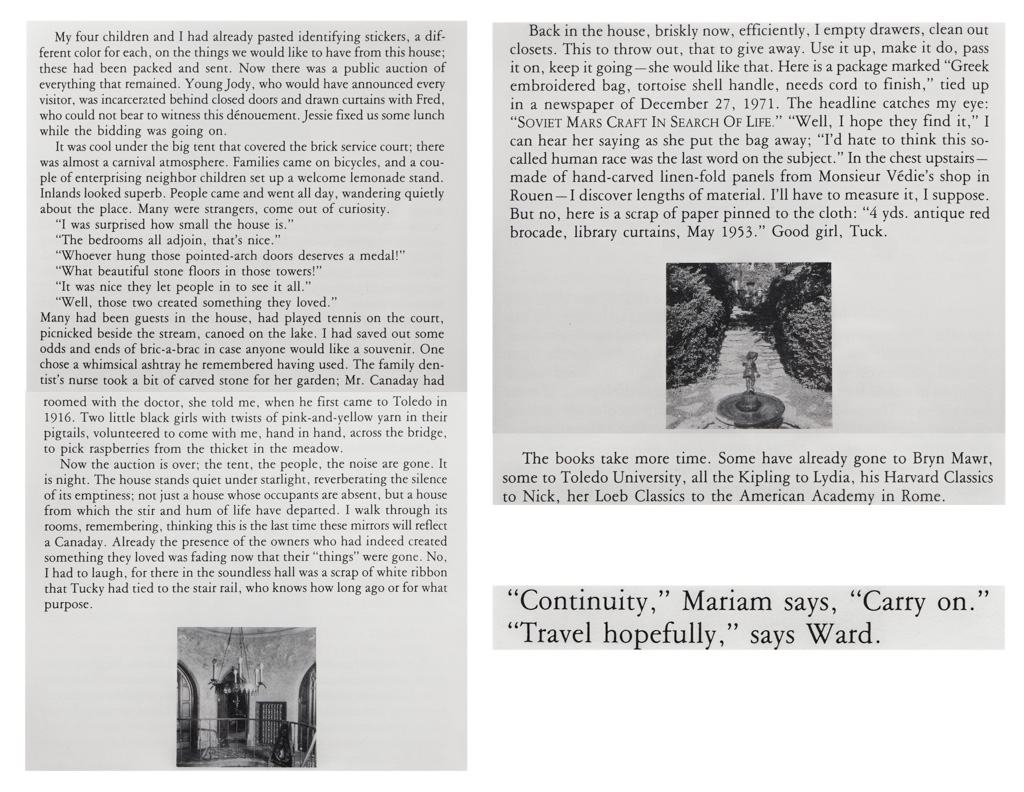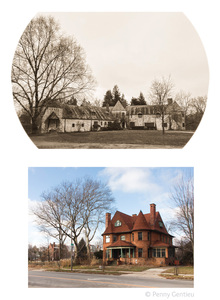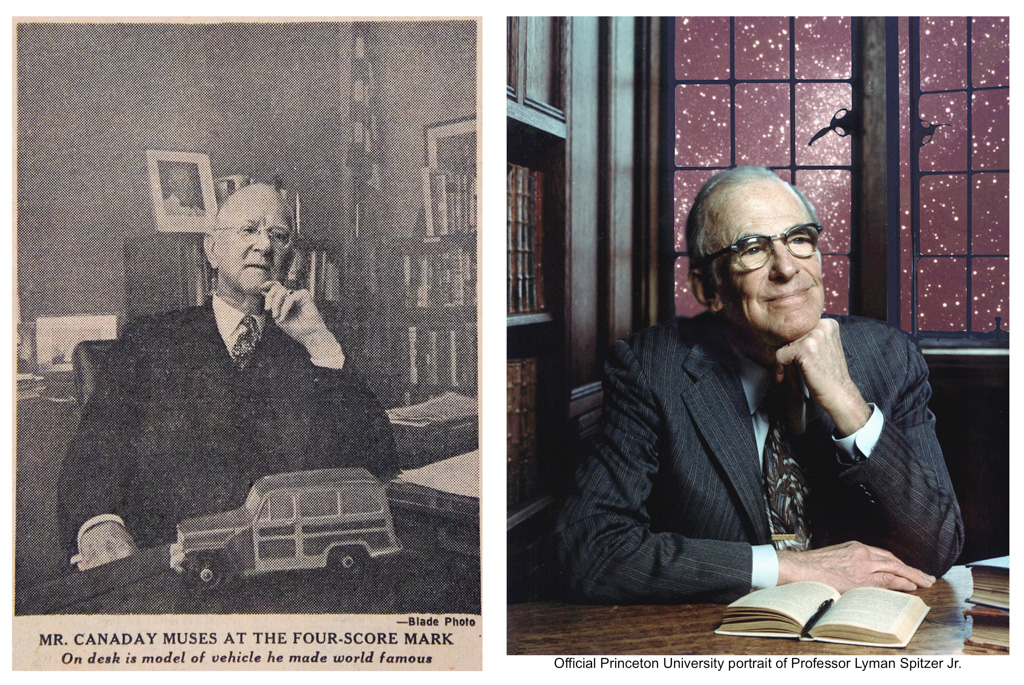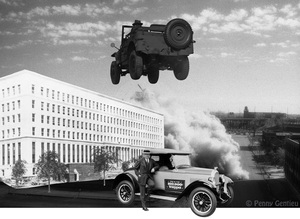 * Whether or not we find what we are seeking
Is idle, biologically speaking. – Edna St. Vincent Millay – 1892-1950