I like my work to move from a platform of reality toward the abstract, and to find this expression through an emphasis on color. – Molly Morpeth Canaday's comment on her method.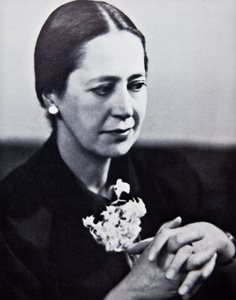 A love story.
Anyone who lives in Toledo can't help but come across the name Canaday, but probably not because of Molly. It would be for the generous philanthropy of Willys-Overland Jeep Company's Ward M. Canaday, the brother of Molly's husband, Frank. Consider the University of Toledo's Ward M. Canaday Center for Special Collections, the Canaday Gallery at the Toledo Museum of Art, the Mariam C. Canaday Medical Arts Building at Riverside Hospital. But enough of that, this is about Molly. Well, Molly and Frank.
In 1928, Molly, of New Zealand, met Frank on a steamer in the Tasman Sea. He brought her to Toledo in 1932. (Their wedding was at Ward and Mariam's Ottawa Hills estate, Inlands.)
Molly took her first art classes at the Toledo Museum of Art. After five years at the museum, she studied privately for another five years with renowned painter, Israel Abramofsky. "Dak – light, dak – light!" is what Abramofsky would often tell her, and that would be her lesson for the day.
She began exhibiting in the Toledo Area Artists Exhibition in 1938, won "Honorable Mention" in 1942, and won the show's top award, the Roulet Medal in 1944 for Winter Bouquet.
In the early 1940's she began to study with Joseph Floch in New York.
For the sake of Molly's artistic growth, Frank and Molly moved to Greenwich Village, New York City in 1947. (And Frank, who was less interested in business than he was in the arts, wanted to work on his writing.)
The Toledo Museum of Art gave her a one man show in 1948. She then had several shows in Vermont, Connecticut, and New Zealand, before having her second one man show at the Toledo Museum of Art in 1958. Her painting style ranged from post-impressionist to abstract expressionist. Her line gesture drawings showed an excellent understanding of the human form while being loose and expressive. When she died in 1971, a Retrospective exhibition of her paintings from 1935 to 1971 was organized by the Toledo Museum of Art.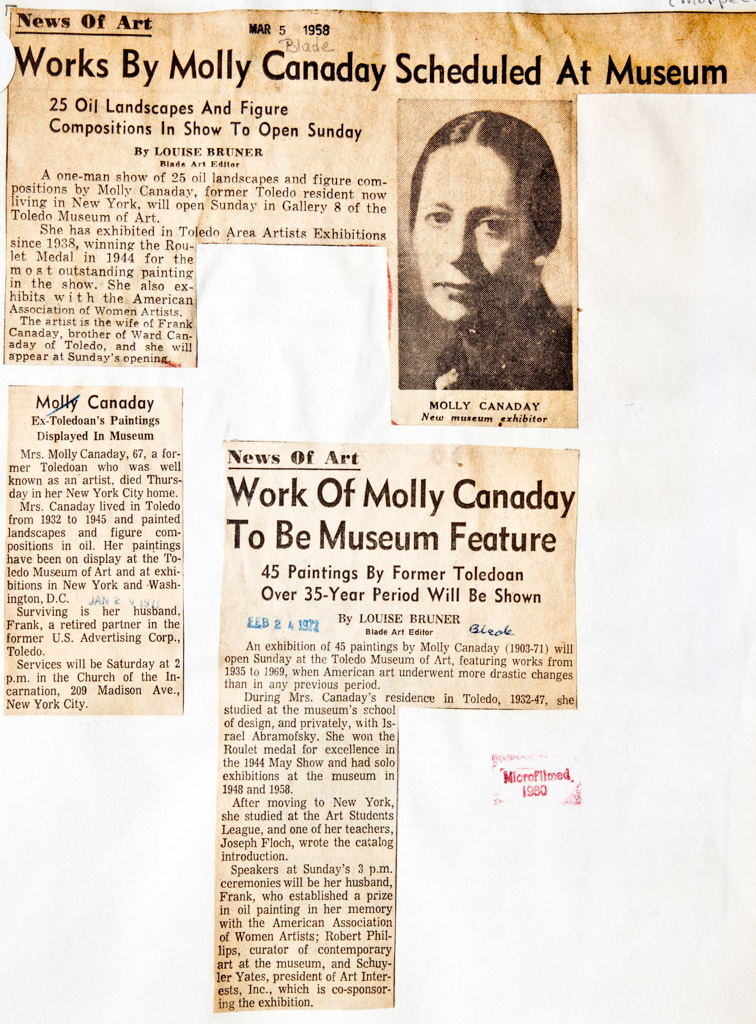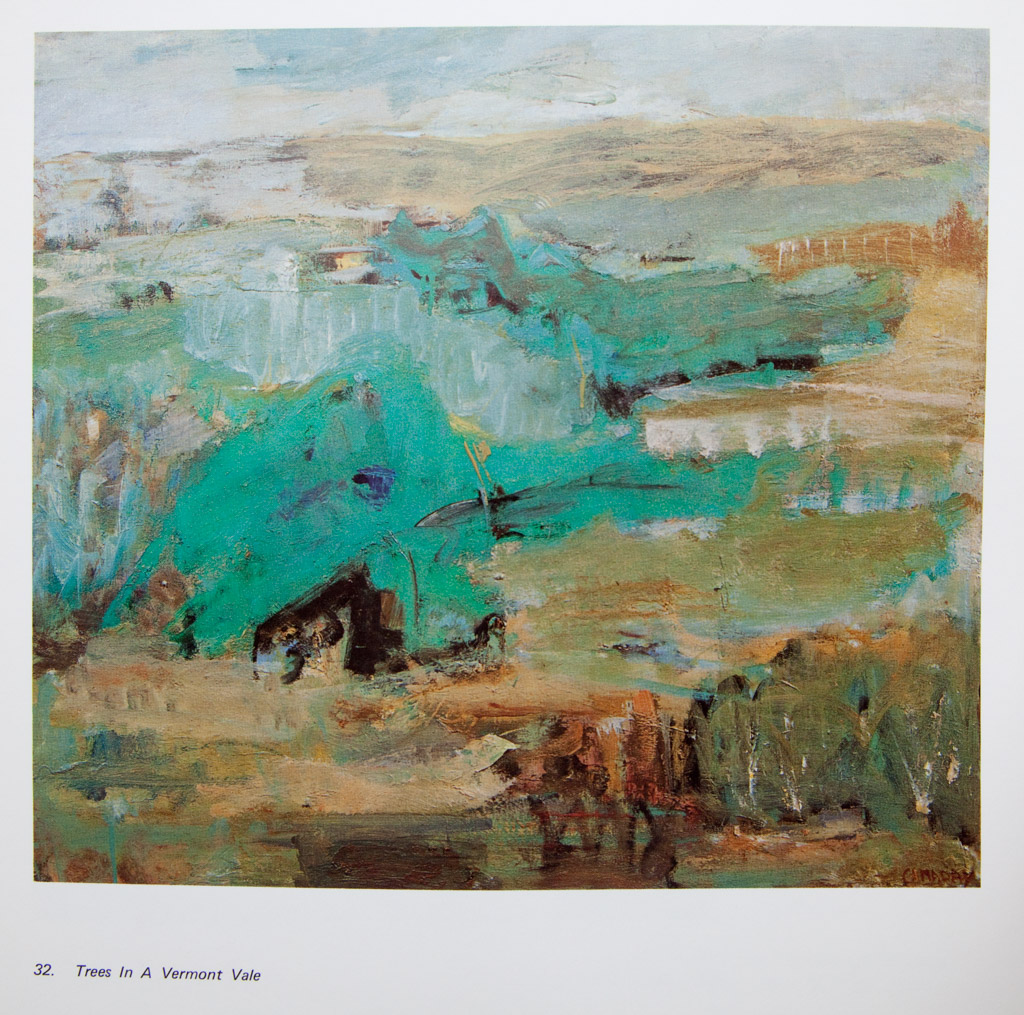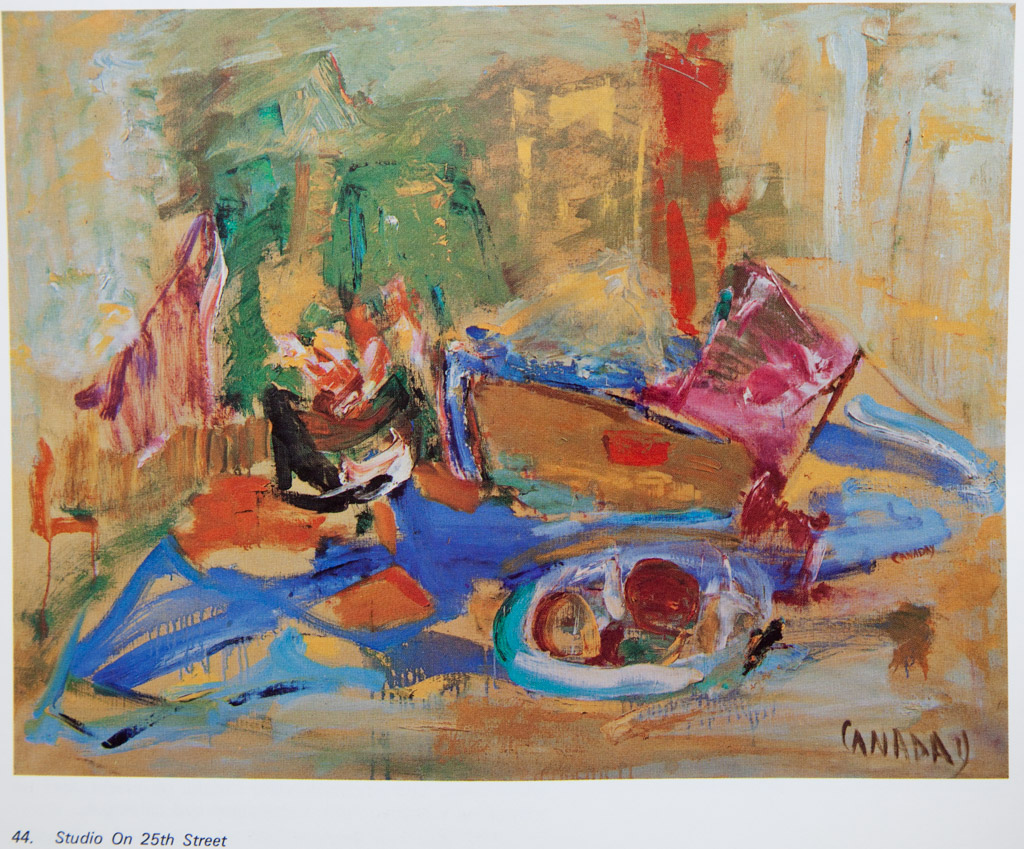 After she died, Frank spent his last years compiling a loving tribute to Molly with his book, Triumph in Color. Frank's book sets forth his renewed belief in the values of the "lonely and difficult struggle – against illness and discouragement, to find a lasting creative expression." Above is a photo of the distraught widower in his wife's studio after she died, so missing her, while picking out a canvas for the Women's Annual Exhibition in the National Academy Galleries in New York. He wrote that she spoke to him through the signature she put on a particular painting, titled Studio on 25th St. / 1969 – saying, choose this one. Frank died in 1976, as he was completing the book. For the cover image, Frank chose a photo of her palette of oil paint on glass, not a painting.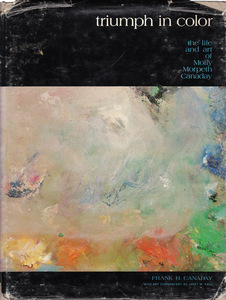 Frank donated about 70 of her paintings, and her papers, letters, etc. along with his notes for the book to the Museum of New Zealand. He couldn't have sent them farther away (with the exception of sending them to outer space.) He set up a Molly Morpeth Canaday fund to benefit New Zealand artists.
The book asks: How good a painter was Molly Morpeth Canaday? But….that was Frank being Frank — that's how he was, always questioning.