Toledo Museum's new culture of belonging does not mean they can keep looted belongings of another culture.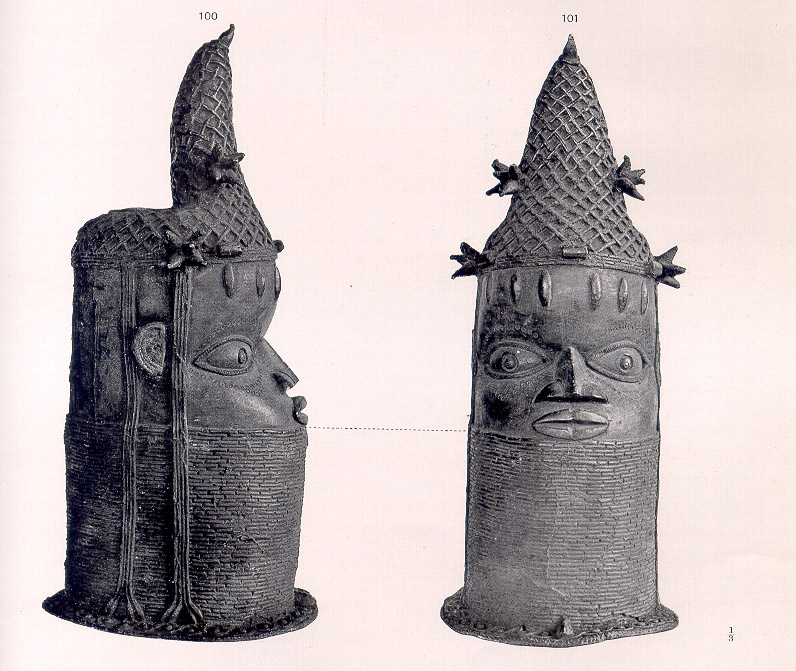 For a museum that vies to be a forward-thinking museum desiring to set an example for all other museums to follow, why hasn't the Toledo Museum of Art returned the stolen Benin Bronze to Nigeria yet? It was stolen in 1897, so they've had plenty of time! If they want to set the example then they've missed the boat, since Benin Bronzes are already being returned by U.S. museums, including the Smithsonian, The Met and Boston.
It was stolen by British colonial troops who invaded Benin City in 1897. It was then sold to General Pitt Rivers, a collector, who started a museum with his new collection of looted art.
For an overview on looted art, see Hyperallergic's October 4, 2022 story, John Oliver Roasts Western Museums in Episode on Looted Art  regarding "subjects like hesitant repatriation, antiquities looting, and the shady acquisition practices of auction … citing grisly colonial histories and contemporary looting schemes."   View the highly entertaining youtube link where you can watch the entire 30-minute episode here.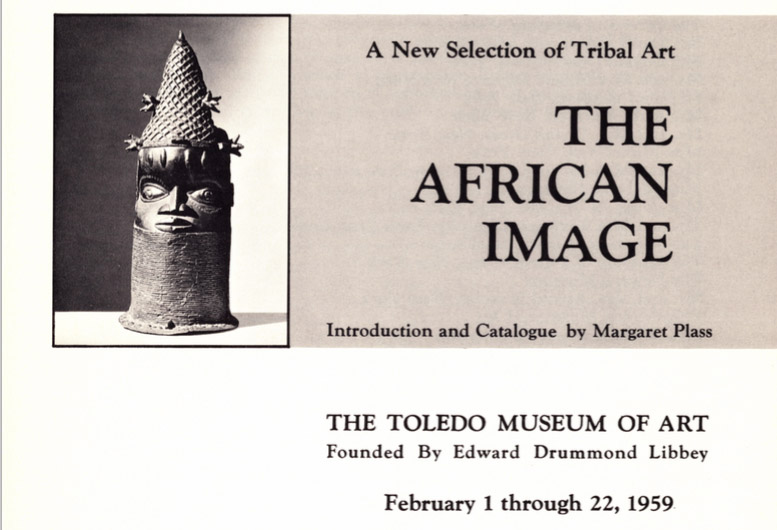 Toledo's Benin Bronze came from the Pitt-Rivers Museum in 1958, right before the museum closed. This museum was General Augustus Henry Lane-Fox Pitt-River's personal museum at Farnham, Dorset, England bearing the same name as the museum started at Oxford University with his earlier bequeathed collection. 
Toledo's Benin Bronze was featured in multiple African Art catalogs published by the Toledo museum in 1959, 1973 and 1998. But it's not on display. Why not? Is it because it is so shameful to have this object, but Adam Levine can't "pull the trigger" (as he so colorfully described his divestment of the museum's three great French Impressionist paintings last spring for $54 million) to shoot this object back to Africa?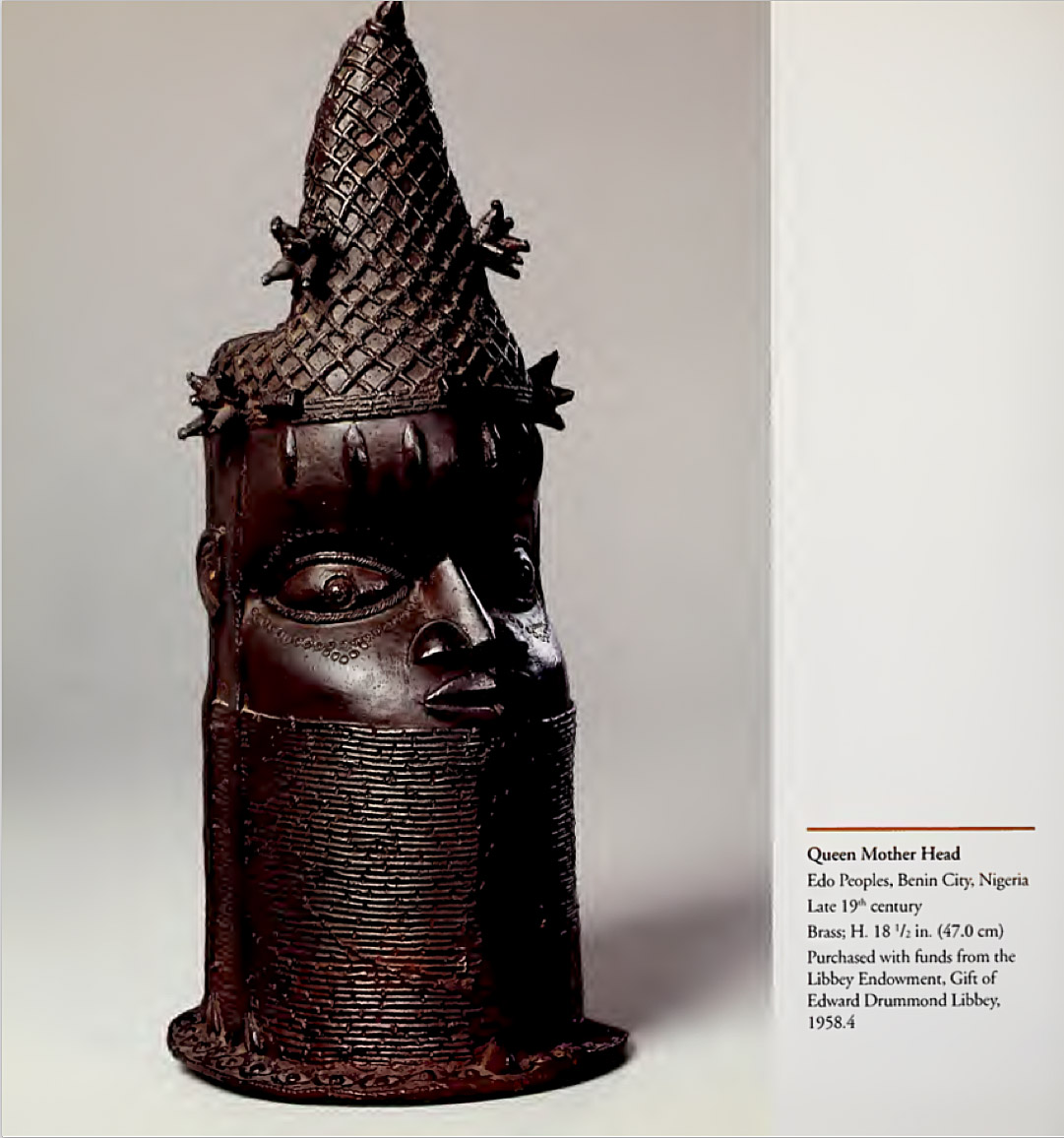 With Lenisa Kitchiner as the Toledo Museum of Art's African art consulting curator, who also works full-time for the Smithsonian, an institution that is sending theirs back, it seems odd that Toledo's Benin Bronze is in limbo — it's not on display, but it's not on a plane going back.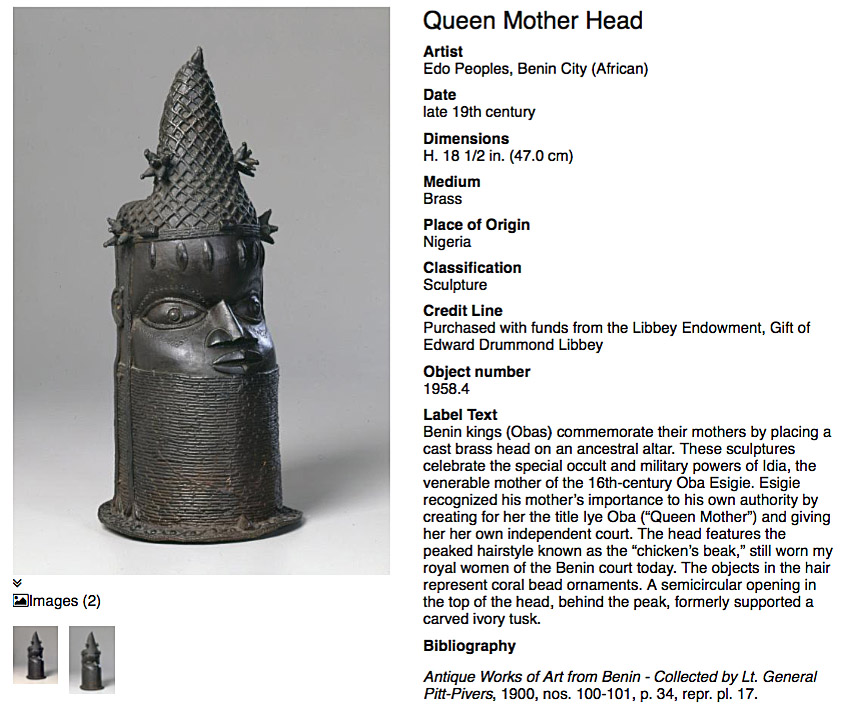 The museum says one thing but does another.
Just this summer, in the Blade's 7-26-22 Toledo Museum of Art helps bring stolen antiquities back to owners, in regard to four objects looted from Italy in the museum's collection, the museum told us that "the process of sending artwork to its home country and leaving the museum's collection, or repatriation and deaccessioning, is integral to what the museum stands for."
"The museum has a long history of helping in repatriation processes like these, including an Etruscan water jug caught up in an international trafficking scheme that was returned to Italian authorities in 2013 and a scientific instrument called an astrolabium, determined to have been stolen from Germany during World War II, that was returned to the German government in 2015."
The 2013 repatriation of the Italian water jug
The Etruscan water jug, or kalpis, was sold to the museum for $90,000 in 1982 by Gianfranco and Rosie Becchina, who got it from the infamous Giacomo Medici. You can read about Becchina and Medici in the book, Chasing Aphrodite, an exposé of the antiquity looting at The Getty written by the journalists who had reported on it for the L.A. Times. In fact, this book describes the finding of Medici's polaroids in 1995, one of which shows this very kalpis still covered in dirt from a recent illicit excavation. It wasn't until 2012, the day that USA v. One Etruscan Black-Figured Kalpis, circa 510-500 BC, case No. 3:12-cv-1582 appeared online, that the Toledo Museum decided to do what they "stand for," and send the looted antiquity back to Italy.*
Denying any other looted art in the museum besides the Nereid Sweetmeat Stand which was stolen from the Dresden museum during World War II, bought by the Toledo museum in 1956, and returned to Dresden in 2011, Director Brian Kennedy questioned, should there be an end-date to repatriations? It was his second, but he would oversee a lot more between 2015 and 2019. One was another 1982 acquisition of an Italian drinking vessel obtained from the same looters of this kalpis, Becchina and Medici.*
About the Subhash Kapoor-looted Asian antiquities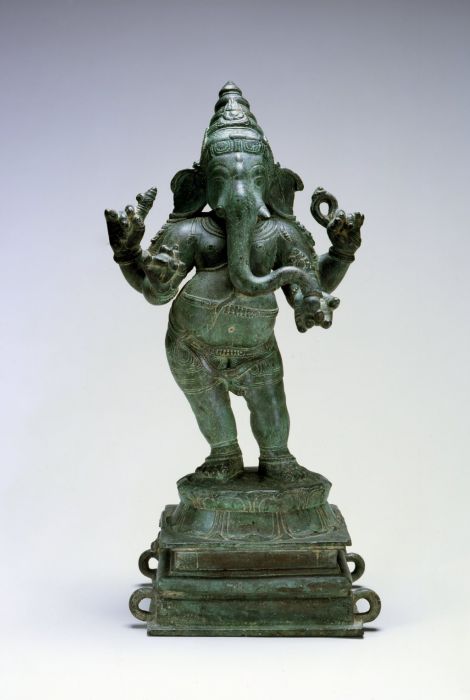 The Ganesh was stolen from the Sivan Temple in Tamil Nadu India in late 2005 or early 2006. It was then sold to Toledo Museum in 2006, who returned it to India in 2014, two years after the Manhattan antiquities dealer, Subhash Kapoor, who sold it to them, was extradited to India to await trial for illegally taking antiquities out of the country. Kapoor had also given 48 free objects that the Toledo Museum listed in their 2007-2008 Annual Report as being recent additions to their collection. In this same publication, the museum thanked Kapoor on the donor page for his donation valued at more than $100,000.
This Subhash Kapoor episode is well-documented on the blog, Chasing Aphrodite, which is written by one of the authors of the book of the same name, mentioned above. Quote from the blog:
The Toledo Museum of Art told the New York Times that it had received a gift of 44 terracotta antiquities from Kapoor in 2007. The only object that appears in a search of the museum's online collection is a terracotta vessel purchased in 2008. The museum published the object in 2009 in a book of the museum's masterworks, but offers no ownership history other than saying it was created in Chandraketugarh, an archaeological site north-east of Kolkata. Where was it before Toledo? What are the ownership histories for the other 43 objects acquired from Kapoor?  –– Chasing Aphrodite
The museum replied to Chasing Aphrodite's July 2013 inquiry with this:
"Our policy is to respond to requests about objects in the TMA collections made by official authorities such as museums, law enforcement agencies, foreign governments and those making legal claims to ownership," spokeswoman Kelly Garrow** told me. "There have been no such inquiries to date in regard to the objects referred to in your email." In other words, in Toledo's view the public has no right to know the ownership history of objects in the museum's collection, even when serious legal questions have been raised.
The museum came clean about their dealings with Kapoor in March 2014, attributing their decision to the information given to them by Chasing Aphrodite, even though the museum stonewalled their inquiries for two years and told them that they don't have to answer to the public.
Subhash Kapoor gave a lot of free gifts to various museums, including The Met. The Met has several of these freebies listed as 20th Century. They are replicas – fakes. Kapoor would smuggle into the U.S. the real stuff packed in boxes of replicas, and the boxes would be marked, "replicas." [see this Paul Barford blog link for that detail.] 
---
The true meaning of Belonging
And now we have a young new museum director with a major in anthropology, art history, and mathematics and social sciences, who did his graduate work at Oxford University – home of the Pitt Rivers Museum, albeit the first Pitt Rivers, which itself houses 327 Benin Bronzes according to Wikipedia. Our director, Adam Levine, seems to want to "contribute to the eradication of the illicit market for ancient artifacts." He wants all museums in America to follow his good example. He's leading a "Belonging" campaign where he endeavors to make the museum more welcoming by displaying a specially balanced world history in order that everyone will see themselves in the galleries. But this important Benin Bronze historical sculpture from Africa is not being shown in any gallery. Nor has it been returned to Nigeria. And not a peep about it.
The museum's Belonging Plan states, "it is important to acknowledge the prior inhabitants of the land on which the Museum stands" and "The Toledo Museum of Art created a Land Acknowledgment both to honor the Indigenous peoples who resided on the land before the founding of the physical campus in the early 1900s and to demonstrate support for Indigenous communities of Ohio, celebrate their cultures, and recognize their forced removal from their lands in previous centuries."
The hypocrites!
Since the sculpture was stolen by English colonialists in arguably the earliest episode of modern-day looting, in 1897, an ambush that captured an entire cultural heritage in artwork, shouldn't the Toledo Museum of Art be returning this object as fast as they can – (they sure could sell three French Impressionist paintings at lightning speed) – considering the new branding and what the new 2022 Toledo Museum stands for, and to meet the museum's goals for being totally authentic by 2026.
The Toledo Museum needs to do a survey of all of its works of art and research to find out if any had been purchased from looters or money launderers of stolen artwork, and they need to put online a database of the entire provenance of each work for the public to freely access. They need to do it with the same determination that they gave to the recent audit of their artworks, which showed that "the greatest imbalances exist across gender, sexual orientation, race and ethnicity, nationality and geography, and material/medium."
The museum should rethink that recent survey – what is the relevance of any of that, and specifically, of the nationality and geography of an object, when so much of that relies on an illicit market, when the museum should not be stealing from other cultures. The museum is, after all, into belonging, and Nigeria should own back their heritage that was stolen by the English colonialists, because it rightly belongs to them. 
And while they are at it, the Toledo Museum of Art should stop looting the local Toledo community of its cultural traditions. They should reinstate the museum's long tradition of children's Saturday art classes that had always been for ANY and ALL children in Toledo (2,500 children every week), instead of just a discriminatory few children (25 at the most?) at a specific grant-written outreach after-school childcare program at a library. Return to our Toledo community the century-old Toledo Area Artists Exhibition, that the museum stole from us in 2014 under a cloud of corruption, and give us that Robert and Sue Savage Community Gallery for local artists promised to us in June 2021. The Toledo Museum of Art got Robert and Sue Savage to donate a lot of money to renovate a gallery space for one-person local artist shows 17 months ago, so where is it?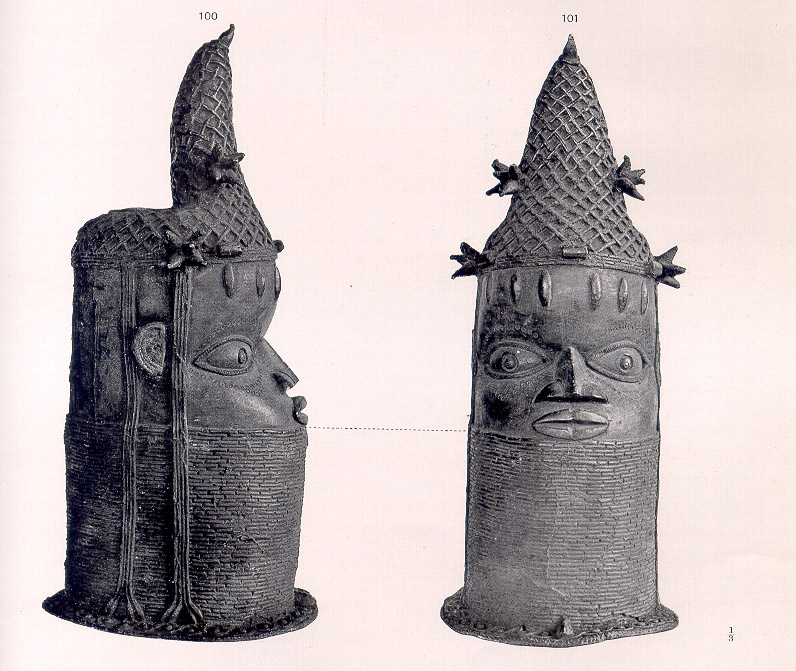 ---
*Museum Ethics and the Toledo Museum of Art, Christos Tsirogiannis, artcrimeresearch.org  Christos Tsirogiannis is a forensic archaeologist who wrote about the kalpis and brought to light the looted Hephaistos drinking vessel in 2017, which the museum did not deal with until 2019.
**Regarding Kelly Garrow, the museum's former Director of Communications who wrote the 2013 email to Chasing Aphrodite saying that they owed no answers to the public in regard to looted art in their collection, see this interesting 2014 message to this very artistsoftoledo.com blog (scroll down to the comments), where she was inspired to write 10 paragraphs about how the museum did not "fix" the Toledo Area Artists Exhibition of 2014 to add their own employees, and more.