Frederick Douglass Allen is Toledo's first known Black American artist. What I was able to find out about him –
Born on April 25, 1886, Frederick Douglass Allen was the son of Thomas, a sleeping car porter, and Anna, whose family was from Delaware. Frederick was educated at the the Toledo Polytechnic School and trained as an artist. As listed in the City Directory, he was a professional designer and decorator. In the early 1930's he is a portrait painter and married to Antoinette. The last appearance of  Frederick Allen in the directories is in 1935, but without Antoinette.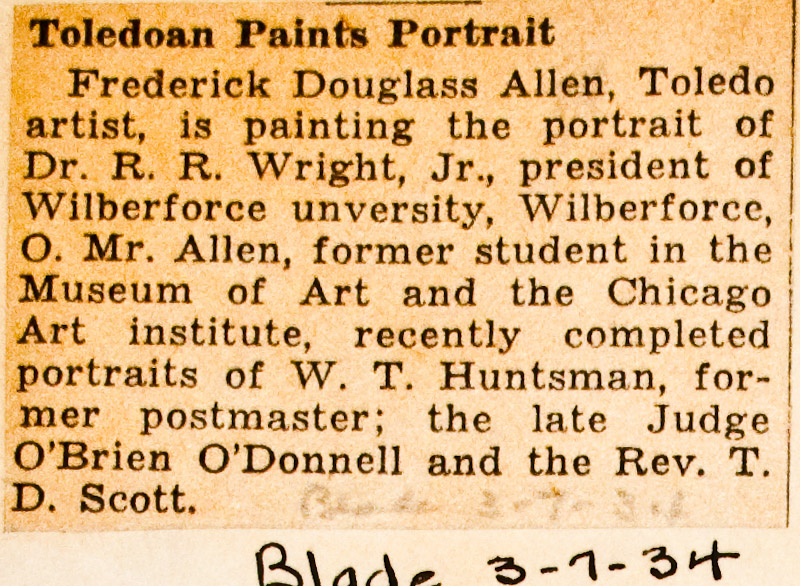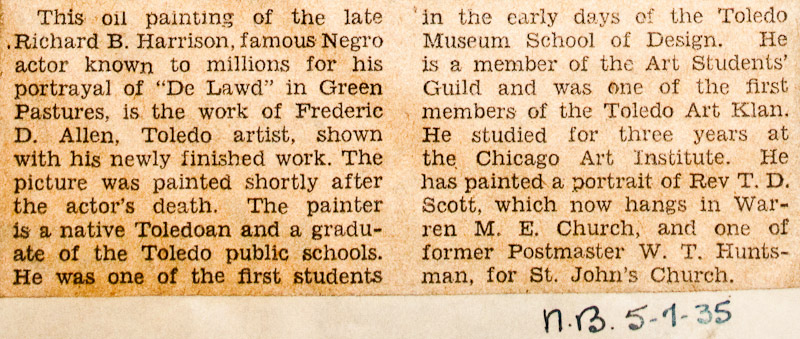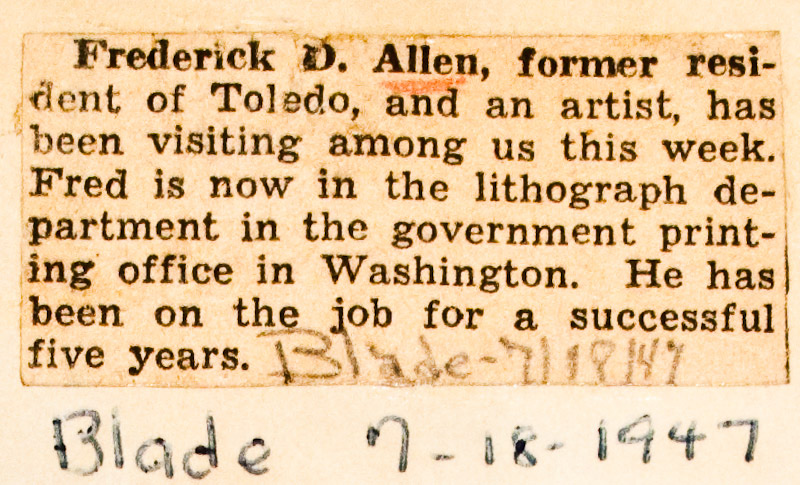 In 1942 when Frederick was 56 he started a job with the lithograph department in the government printing office in Washington, where he worked for at least 5 years, as reported in the Blade in 1947 when he returned to Toledo for a visit.
Fred was one of the first students of the Toledo Museum School of Design. He was a member of the Art Student's Guild, and one of the first members of the Toledo Art Klan in 1913. He exhibited at the 135th St. Branch of the New York Library. He studied for 3 years at the Chicago Art Institute, where he exhibited in 1916 when he was 30. He exhibited at the Toledo Museum of Art in 1927 and 1931. He was in the First Annual Exhibition of the Toledo Federation of Art Societies in 1918, and again in 1921, 1922, 1929, 1931, 1933, 1935 and 1936.

Notes on his existing artwork: Paintings in Toledo — Rev. T.D. Scott, hung at M.E. Church, at least until 1935 Postmaster W. T. Huntsman for St. John's Church Other paintings — Dr. R. R. Wright, Jr. president of Wilberforce University, painted in 1934, and Richard B. Harrison ("De Lawd") painted in 1935 after the actor's death. The Toledo Museum shows were probably: May 1-31, 1927 – Work of the Public Schools and The Museum School of Design – Oct 1-31, 1931, Exhibition of the Work of the Public Schools and The Museum School of Design.
When he died is yet to be found out — his government records could have been destroyed in a fire in Kansas City.