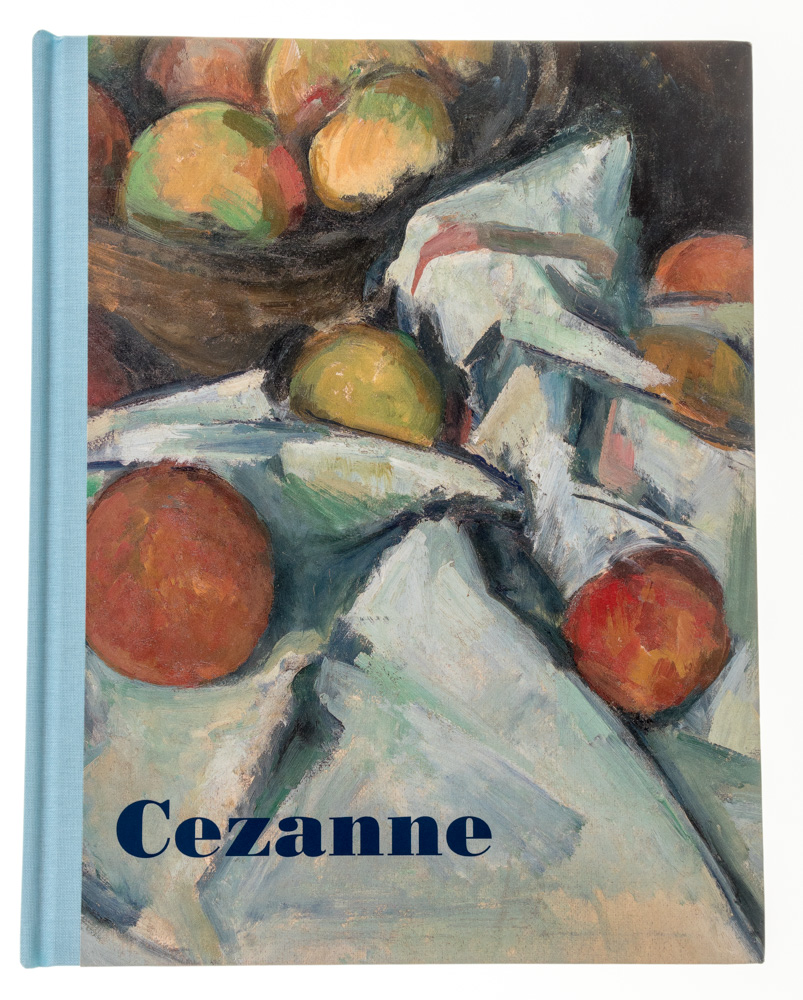 Cezanne Exhibition, Art Institute of Chicago
May 15 – September 5, 2022
While the Toledo Museum of Art does nothing — there has been no Art Matters quarterly member magazine since January, no Robert and Sue Savage Community Gallery as promised to us in May 2021, no blockbuster shows in the Canaday or Levis exhibition galleries that mostly have been empty, except for a couple of uninteresting shows —  the Art Institute of Chicago is having its third blockbuster exhibition since the pandemic began in 2020 — El Greco, Monet, and now the most important Cezanne retrospective in 16 years.
We saw it. It was great. It gave me a renewed understanding as to why Cezanne is called a painter's painter, why he is considered the father of modern art, and why he is so highly regarded, even among the new generation of artists.
Wondering if the curators had asked to borrow one of our Cezannes for the show, we found the answer in the published catalog – a beautiful definitive book aptly titled Cezanne. There in the book on page 154, reproduced on a full page, was our Avenue at Chantilly, Catalog #83 listed for the Chicago show. On the acknowledgement page, among 70 other museums, the Toledo Museum of Art is thanked for making their work available for display in the exhibition.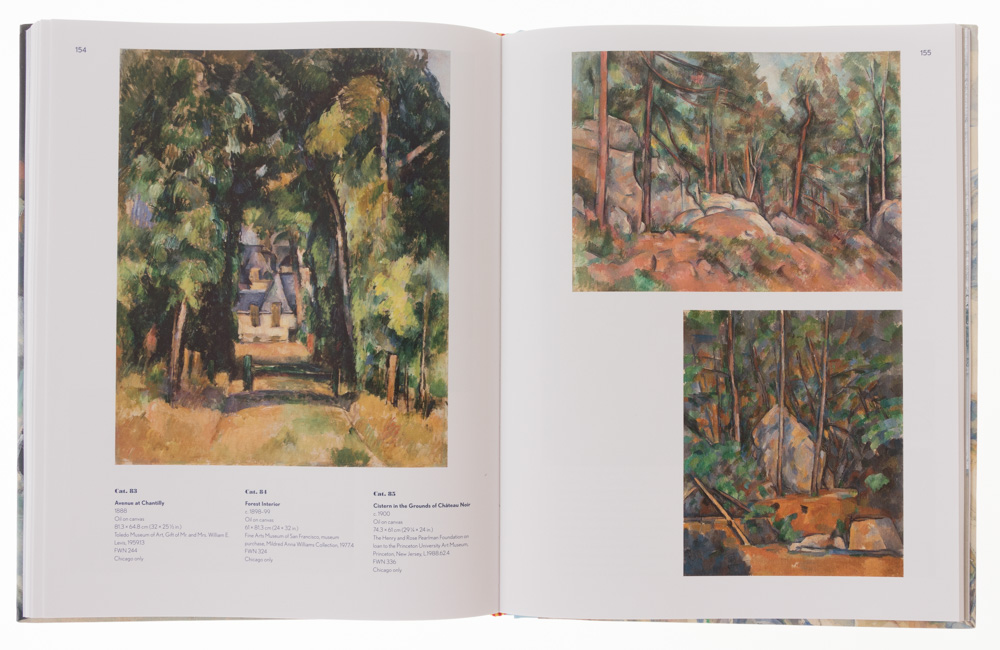 But for the past several months since this show has been up, Avenue at Chantilly has been hanging in Gallery 35 at the Toledo Museum of Art, and not in the Art Institute of Chicago's Cezanne Exhibition! Wondering if I had somehow missed our painting at the Chicago Cezanne show, I called the Toledo Museum of Art to check to see if it is on display in Toledo, and I was assured that it is indeed on display, in Gallery 35.
I wonder if the reason why it is not in Chicago is because the Toledo Museum of Art made an abrupt decision to deaccession our other Cezanne painting, The Glade, after the museum committed our only other Cezanne to the Chicago's Cezanne retrospective. Weren't we assured that deaccessioning was a thoughtful, long process? Apparently not in this case, as the book went to press in 2022 (or very late 2021, as the book was dedicated to one of the curators who died in November 2021. )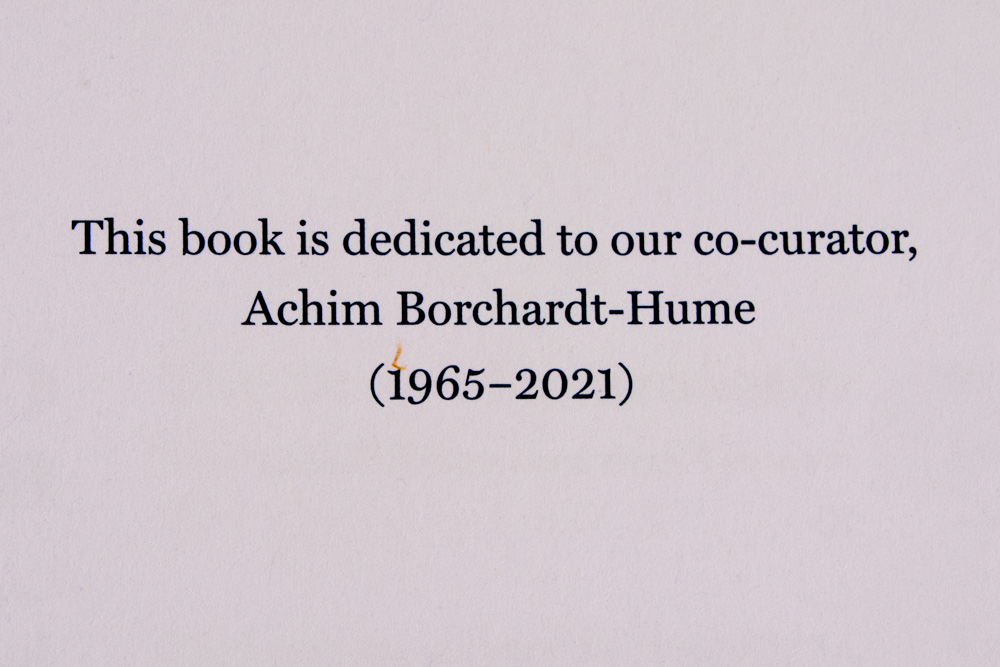 It seems that our museum felt so much guilt about their rash decision to deaccession the painting that they broke their commitment to their peer museum and pulled it from the exhibition after the book went to press.  As Director Adam Levine informed Toledoans on April 8 when he announced the shocking deaccessions of not only their only other Cezanne painting, but of their other Matisse painting and a Renoir bather, the museum's only other Cezanne painting and Renoir painting and Matisse painting would always be on display on the walls of the Toledo Museum of Art.
What would make the Toledo Museum of Art break a promise to important colleagues and peer institutions — the other museums in the United States that they so much want to make an impression on in their 5-year plan, to be a great example of a museum that all other museums would look towards as an example of how all museums should be?
Quotes from the Toledo Museum of Art's 5-year plan —
The Toledo Museum of Art will become the model art museum in the United States for its commitment to quality and its culture of belonging. 
By authentically connecting quality with belonging, TMA can become one of the museums in this country from which others learn.
TMA's transformation will be heralded by the press and will set the bar for museum peers. 
How does that make Toledo trustworthy or how can they ever expect to be a good example to other museums? Will other museums be willing to loan paintings to Toledo in the future after this, if Toledo ever has the wherewithal to put together a traveling show?
World-class exhibitions that speak to 21st century issues will draw Northwest Ohioans and out-of-towners alike, with tourists shocked and delighted to be welcomed by a diverse and empowered staff so clearly loving what they do and the institution they serve. TMA's exhibitions will depart Toledo to traverse the globe, providing the Museum and its hometown the visibility it once enjoyed.
In Christopher Knight's May 6, 2022 COMMENTARY: AN OHIO MUSEUM IS HOLDING THE BIGGEST SALE OF ARTWORK YET. IT'S UNCONSCIONABLE, he interviewed Director Adam Levine, who told him that market realities made the difference in pulling the trigger right now on the deaccession of the paintings.  What would the market realities be, I wonder, that would make the Toledo Museum of Art renege on a commitment as important as lending Avenue at Chantilly to Chicago's seminal exhibition on Cezanne?
Strangely, two of the paintings that were suddenly deaccessioned – the most valuable ones – were bought by the same buyer at the auction on May 17, as reported in Barron's the evening of the auction. Could it be that there was a collector who told the museum they would buy the paintings, now or never, and the museum didn't care about anyone – the public or their peers?
It is a gross thought that Toledo Museum of Art might be cannibalizing itself. They have tarnished their reputation among peers by reneging on a promise while lying to the public about the reason for the deaccessions. Edward Drummond Libbey did not advocate that the museum have only one example of a great artist's paintings. The paintings were not "mediocre." Adam Levine invoked a Libbey quote to support the sale: "Let the multitudinous array of the mediocre be relegated to the past and in its place be found the highest quality, the best examples and the recognition of only those thoughts which will stand for all time."
That so-called mediocre painting brought $41.7 million at the auction proving its greatness. What's more, our Toledo museum did not need the money! Chicago owns 9 Cezanne oil paintings, Detroit owns 5 Cezanne oil paintings, Cleveland owns 3 Cezanne oil paintings, now we own only 1, and that painting was supposed to have been in Chicago's Cezanne Exhibition, but it wasn't, after it was promised and after that promise was memorialized in a book. Our museum let down a national community from seeing it! The museum let Toledo down, because Toledoans would have felt proud to see our painting hanging in the show, but instead this makes us feel shame and embarrassment for living in Toledo. 
Just another lie when Toledo gets credit in the book for being in the show.
Perhaps Adam Levine doesn't mind breaking promises – he certainly doesn't mind lying to us – when our museum still gets credit in an important Cezanne book for being in the show – why not pull it out of the show — it was too late to make corrections — the opportunity of selling our other Cezanne painting — was it to a demanding secret buyer who just couldn't wait four months until the show was over, was that the "market reality" that was just too good to pass up?  One can only speculate, but an investigation needs to be conducted to find out the truth.
Adam Levine had a fiduciary duty to preserve our valuable collection for the future, and he should never have reneged on a commitment to lending our Avenue at Chantilly to an important public show. The Art Institute of Chicago is the true example of what all museums strive for — this show is the third blockbuster they have put on since the pandemic. Our museum, under Adam Levine's leadership has done nothing but sell off our great French Impressionist paintings, creep out most of Toledo with their burnt American flag acquisition, and make our city a laughing stock of the art world.
We should save our museum and save our city's reputation by changing course now with new leadership at the museum.
EDITORIAL – TOLEDO MUSEUM OF ART SHOULD KEEP ITS TOP TIER
The Blade, Editorial Board, April 25, 2022 
Selling off Paul Cezanne's Clairière (The Glade); Henri Matisse's Fleurs ou Fleurs devant un portrait; and Pierre-Auguste Renoir's Nu s'essuyant simply makes no sense. These and other proven lasting works draw people to the museum from near and far.
Every museum director retains the right to pursue their own paths as Adam Levine is doing. Yet the museum is an integral part of Toledo's art culture. The museum is not in a vacuum. While privately maintained, the museum does represent Toledo to the outside world.