Culture and Community by Government Remote Control
I am interested in The Toledo Museum of Art's use of the 57 million dollar profit from the three recently deaccessioned French Impressionist/early modern paintings which they sold to raise money for the purchase of "diverse art."
The Toledo Museum of Art recently hired a Consulting Curator, Lenisa Kitchiner, for the museum's African collection. Although the museum doesn't mention it in their news release, she is the Chief of the African and Middle Eastern Division at the Library of Congress in Washington, D.C., with an educational background in literature, African studies and politics, not art history.
She will "steward a growing collection of African art at an innovative institution in the heart of the Midwest," while "creating a collecting strategy that represents the entire community," and "sharing untold stories and fostering widespread community belonging." From the June 28, 2022 Toledo Museum of Art press release:
Kitchiner eagerly anticipates joining TMA at such a pivotal time as the Museum endeavors to advance a collecting strategy that represents the entire community. "The opportunity to steward a growing collection of African art at an innovative institution in the heart of the Midwest is extraordinary," Kitchiner stated. "The Toledo Museum of Art's commitment to sharing untold stories and fostering widespread community belonging—coupled with its impressive curatorial staff and its unmistakable impact—make it the right place through which to share my passion for the visual arts of Africa."
I googled Lenisa Kitchiner, the new steward of African art for The Toledo Museum of Art, and discovered that she is the Chief of the African and Middle Eastern Division of the Library of Congress in Washington, D.C. (It's a mystery as to why the museum's press release did not mention that.) Will she be working remotely?
I was struck by her description of her favorite children's book, which inadvertently connected me to a heretofore untold story that has deep roots in Toledo culture. I share in the spirit of contributing to an ambitious museum's endearing transition to endeavoring the enduring, relentless sea change of advancing engagement and authentic widespread community belonging, in order to foster pivotal, vibrant, Midwest, ready-to-be-told, it's-about-time, yes-we-did, storytelling.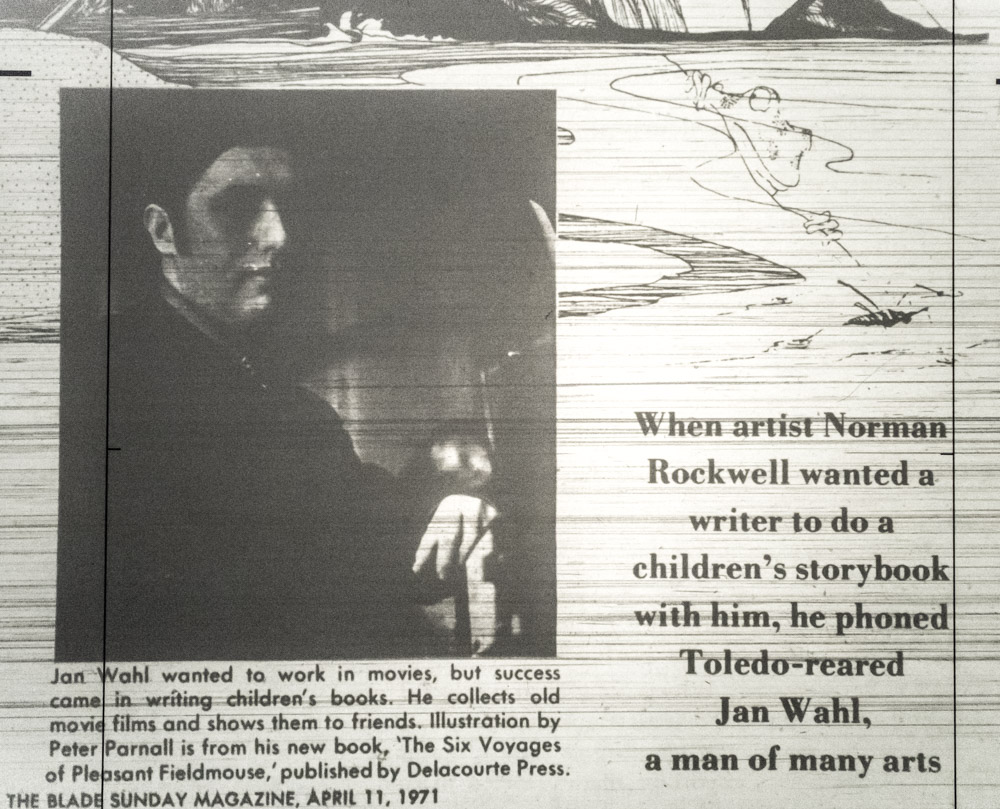 The untold Midwest story of Jan Wahl and Maurice Sendak
In the September/October 2021 Library of Congress Magazine article, Lenisa Kitchiner was interviewed for being the new Chief of the African and Middle Eastern Division of the Library of Congress. She describes her favorite book as a child, Where the Wild Things Are:
I am a lifelong learner, a lover of literature and a consummate traveler. I like to blame it on Maurice Sendak's children's book "Where the Wild Things Are," which indelibly influenced my imagination when I first read it at age 5. The book tells the remarkable story of a little boy who dreams of traveling to a faraway place, encountering monstrous creatures and winning their favor by performing a special magic trick that forces the creatures to suspend fear of the unknown long enough to see the boy as friend instead of foe. I did not have the words to articulate it as a child, but it was that sense of creating new connections, of overcoming fear, of embracing the unknown and of having meaningful impact that I fell in love with when I first read the book. These aspirations continue to influence my engagement in the field.
I was immediately reminded of my old friend Jan Wahl and Artist of Toledo who died in 2019 at the age of 87. A flood of new understanding of Jan Wahl's life came over me! Looking back at his life, I can now see that, in a nutshell, Jan Wahl was that boy in the book! He traveled to far-away places, he encountered monsters, and he won them over with his creativity. I never really thought of him before as the little boy in Where the Wild Things Are.
As a child living in the Westmoreland neighborhood of Central Toledo, Jan would write to famous people and collect silent films and art prints. In college, his teacher was Vladimir Nabokov. On a Fulbright Scholarship in Denmark, he worked with the Danish director, Carl Dreyer on the making of Ordet (The Word). He then worked for the writer of African tales, Isak Dinesen, whom he didn't like at all. "She fired me over two misspelled words, after four months of work!"
Jan Wahl was a renowned children's book author, having published about 130 books. He wrote from the perspective of "a child trying to grasp the unfathomable adult world." He also wrote memoirs of his silent film experience, including Dear Stinkpot: Letters from Louise Brooks; Through a Lens Darkly, and Carl Theodor Dreyer and Ordet: My Summer with the Danish Filmmaker. He collected fantastic early 16mm art films.
Jan Wahl had some wild stories – such as one about Maurice Sendak taking his idea for a book and making it into Where the Wild Things Are. Maurice Sendak was a mentor and collaborator when Jan Wahl started out. Jan had similar stories involving puppet makers, film directors, gallery owners, etc.  Jan Wahl was not confrontational; he would simply write another book, 130 in total.
Making self-deprecating jokes about these experiences was how Jan Wahl would vent. It had to have hurt, for his friend and mentor to take his story and make it his own, while leading him on, eventually throwing him a bone. I wonder if Jan had a sense that the story prophesied his life. Ironically the book became Maurice Sendak's main legacy.
When Maurice Sendak died in 2012, Jan auctioned off his letters from 1962-1964. Maurice Sendak illustrated Jan Wahl's first book, Pleasant Field Mouse, published in 1964, after Where the Wild Things Are was published in 1963. A mouse and a monster-tamer, at least young Jan Wahl ended up with a book. Thus, he began his life as a children's book author, successful although not rich, considering his prolific output. "I began at the top. It didn't stay that way. But I did have a lovely, lovely beginning with a very fine artist," was his quote in his Blade obit, taken from a 2006 Blade interview.
Jan Wahl and the Toledo Museum of Art
During the summer of 2013, not long after Jan Wahl's special book came out, Carl Theodor Dreyer and Ordet: My Summer with the Danish Filmmaker, The Toledo Museum of Art put on a Dreyer film series. The first one was The Passion of Joan of Arc, and my husband and I went to it. We were surprised that Jan was not a part of it. So I wrote to the museum's Public and Glass Programs Coordinator to tell her about Jan Wahl and his book, what a great film historian he was, and how he puts on film programs, and I gave her his phone number. She replied that she knew all about Jan Wahl, he did programs with the museum in the past, and that "he was actually part of the inspiration for the series. Unfortunately special guests are not always free of charge."
It was hard to believe that the museum couldn't scrape together a modest honorarium for Jan Wahl, a great local author and film historian, one who actually worked with Carl Dreyer on Ordet, in order to bring him into the event that his own newly-published book had inspired. Jan Wahl would have been happy to do it for merely a ride to the museum. How bad it was for them to take his work as the inspiration for the Dreyer film series, but not include him in the program. It was nice to see that the Dreyer films in the series thereafter, including the next film shown, Ordet, were introduced by Jan Wahl.
Wahl + Museum in 2019

Thereafter, the museum did more things with Jan. The final collaboration was for the launch of his new children's book, Hedy and Her Amazing Invention, scheduled for March 2, 2019. Unfortunately, Jan Wahl died on January 29, five weeks before the event. In his obituary on February 1, the Blade quoted the museum manager of Programs and Audience Engagement saying that the program would continue, but would become a celebration of his writing, and especially his new book. "We want to celebrate what he has given to the world."
Two weeks later, the museum had not changed their website to pay respect to the author of the book who was the principal element of the upcoming book-signing and book-reading event, who was unfortunately dead! I felt compelled to write another letter, this time to the director, Dr. Brian Kennedy in an email which I cc'd to the CEO of the Museum Board and the Director of Education and Engagement. I received an immediate reply, not from any of them, but from the Director of Communications, thanking me for bringing it to her attention that the information was out of date. The website was promptly updated to add a mention that the event would celebrate the author's life and his new book, along with an art demonstration, and a parade.
No doubt this last episode with the museum gave Jan Wahl great material for a new story to tell up in heaven.
Treatment of local artists
and the shift to the culture of un-belonging
Toledo Area Artists Exhibition, the 96-year old tradition
We are the hometown artists, and we'd like some respect. The museum's new manager of communications touts the line: "We want the community to see themselves on the walls of the museum." Artists of Toledo would like to see ourselves on the walls of the museum, too. We'd like to feel that sense of belonging again, that was taken away from us eight years ago under a cloud of corruption.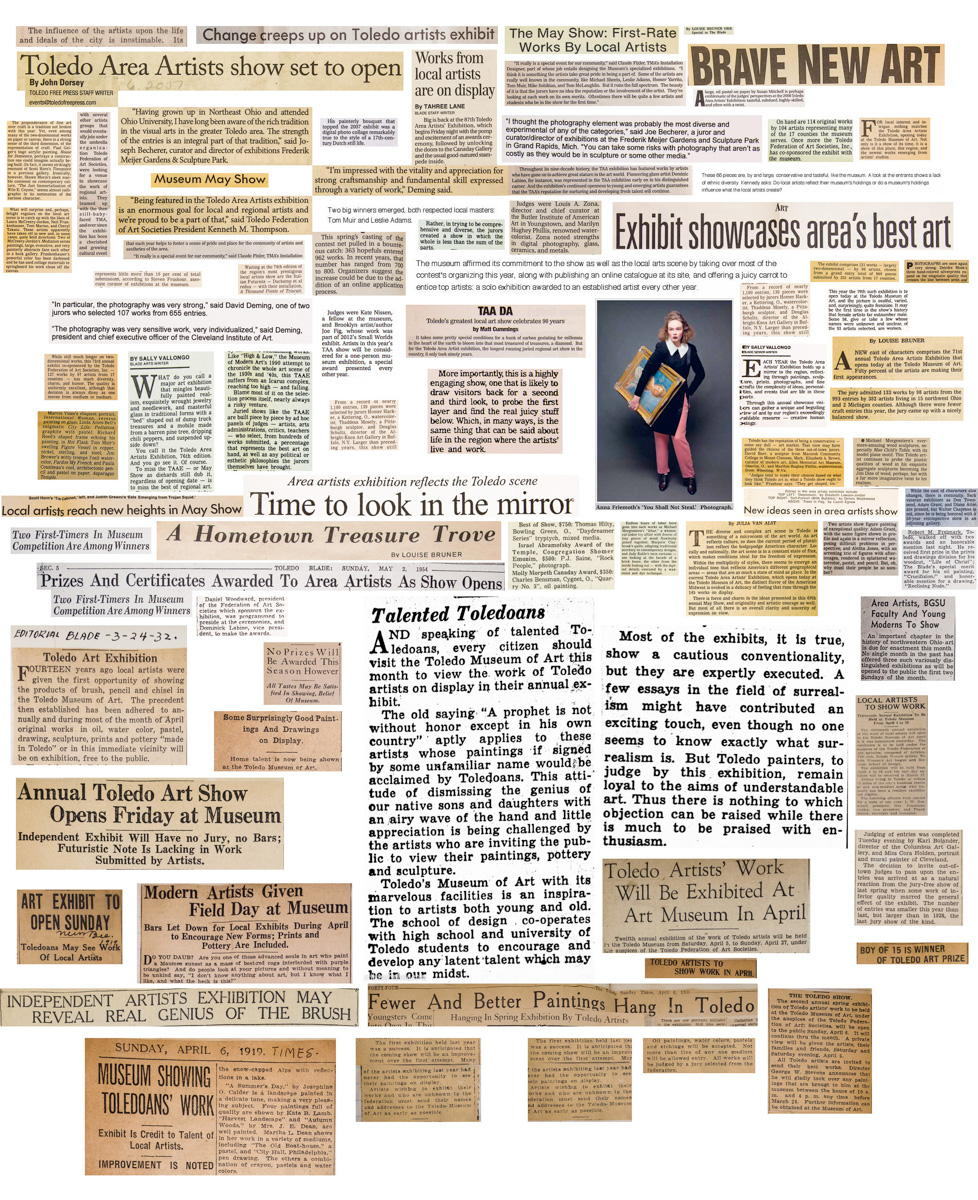 In 2014, it meant nothing to the Toledo Museum of Art to kill the 96-year old tradition of the Toledo Area Artists Exhibition by use of "curating" it themselves instead of impartial judging of the entries. They stuffed the show with insiders such as museum workers, Federation presidents and past presidents, and friends, with only two women from Toledo, while excluding people of color.
I curated a show in protest with like-minded local artists called Artists of Toledo at the Paula Brown Gallery.
The Toledo Area Artists Exhibition had been jointly presented by the Federation of Toledo Art Societies and the Toledo Museum of Art until 2011, when the museum told the Federation that they would take it over so they could do even more for Toledo artists. But in 2014, they took Toledo artists out of the show and put in their own employees, friends and previous Federation presidents, with only two local women artists, in a show of 27 artists (which had usually been 80 or more local artists, usually over half being women.) Even though local artists entered the competition as they had for 96 years, this show did not have impartial judges, as had all the shows after 1921 (when the museum caused an uproar by jurying it themselves and giving the prize to a 14-year old), instead it was "curated" by the museum's own staff. The museum quietly stopped the Toledo Area Artists annual show, and it was okay with the Federation of Toledo Art Societies since they got a big payoff. But they should have fixed it. See, my blog post, Toledo Museum of Art: Repair the Damage.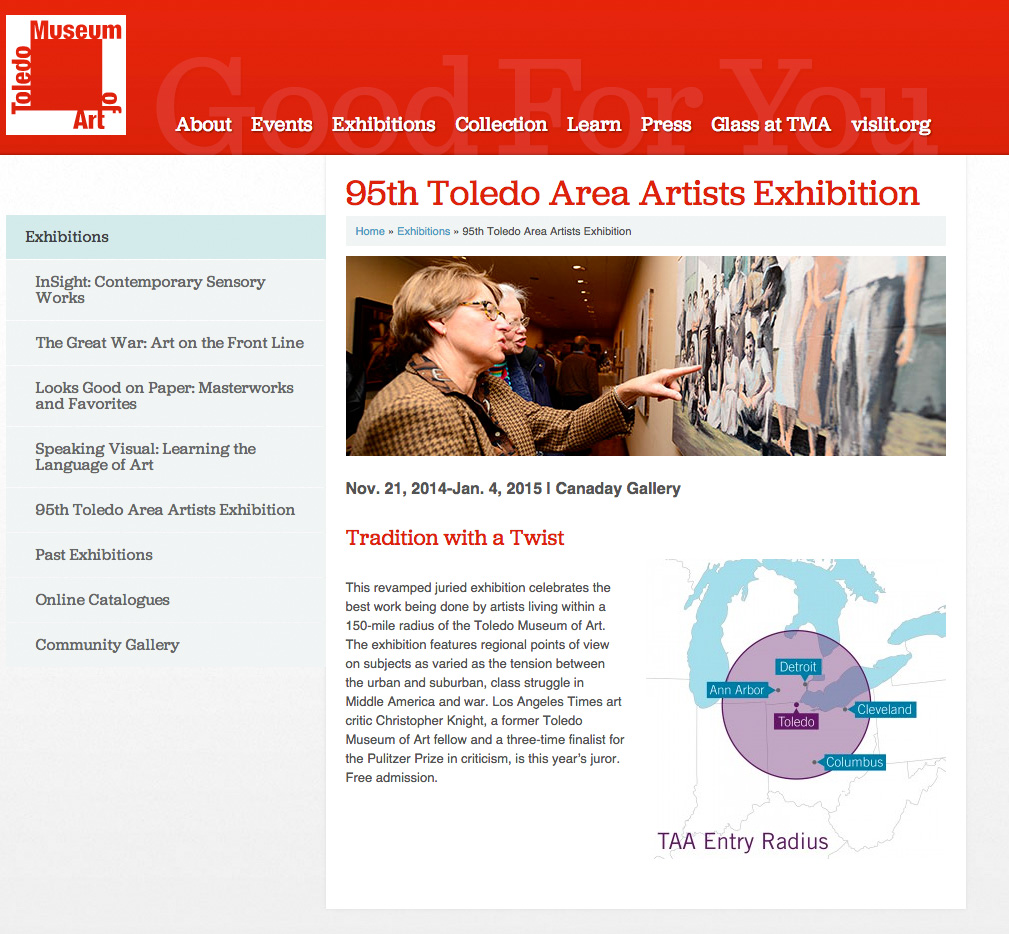 So it's weird that today they are using "community belonging" after  kicking out the local artists eight years ago. When they so want to tell our untold stories of the community, but isn't the art that comes from the community the most authentic community story for an art museum to tell? The museum turned its back on local artists – where is the promised local art gallery for local artist shows? Promised 15 months ago! So much indecision and procrastination – they don't know what to do, because they don't really want to do it — they don't like their local artists.
Narrowing the transmission
This year, the museum endeavors to engage the community by reducing the area it serves to a 2-mile radius. When they say community, they do not mean the entire Toledo area, and they certainly don't mean the artists. They are reaching out to nearby neighborhoods who have not utilized the museum in the past. Must be the winning grant theme of the era. They are setting up "art-making stations" in federally-funded low-income housing, and they will feature these new local artists that they inspire and create, in a community gallery that they promised 15 months ago to Toledo's local artists. They are emphasizing belonging (a membership drive, that is) by raising the parking fee to discourage visits to the museum by anyone who is not a member. Transportation for low-income housing within the 2-mile radius is provided by the museum for free.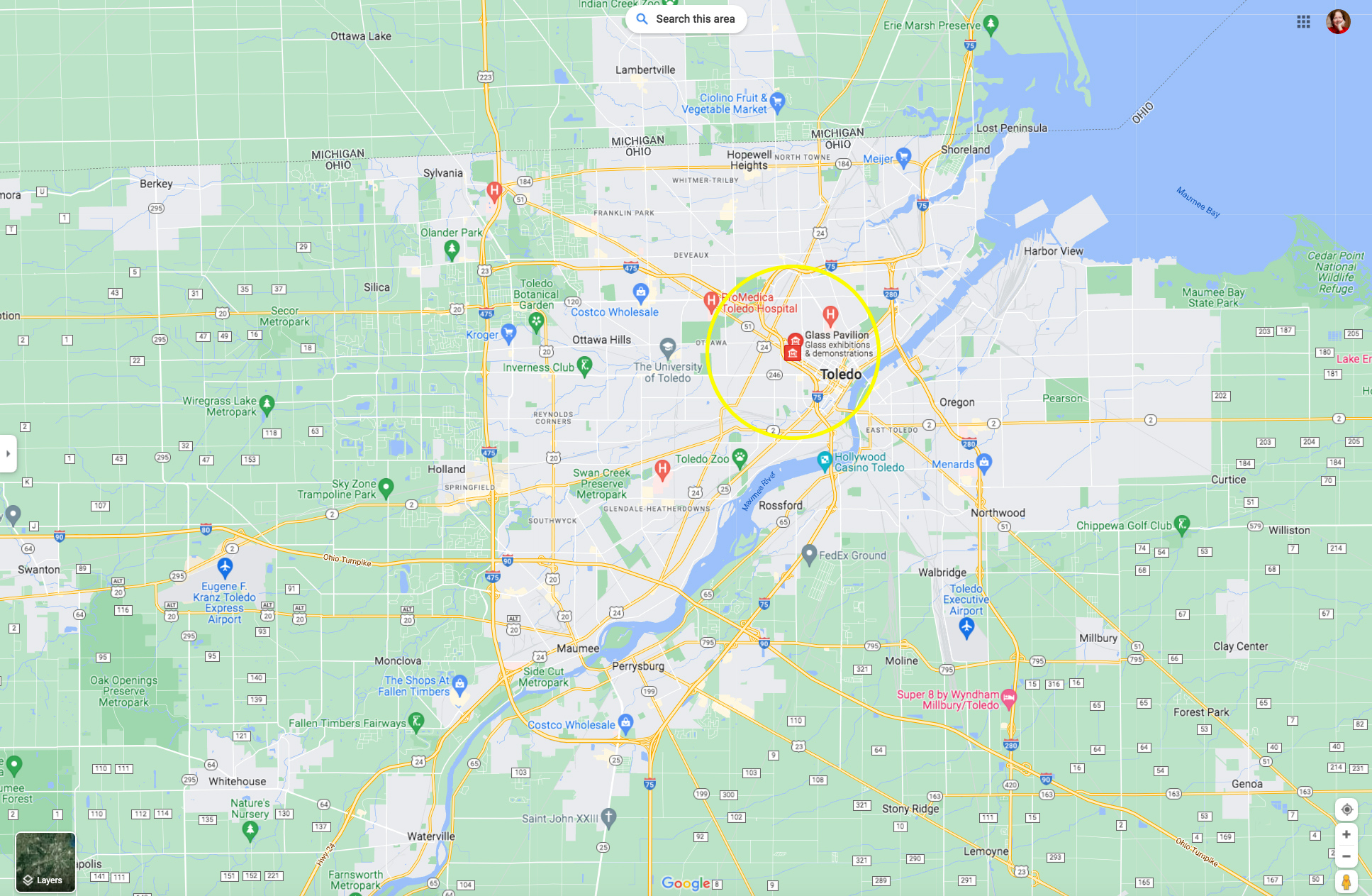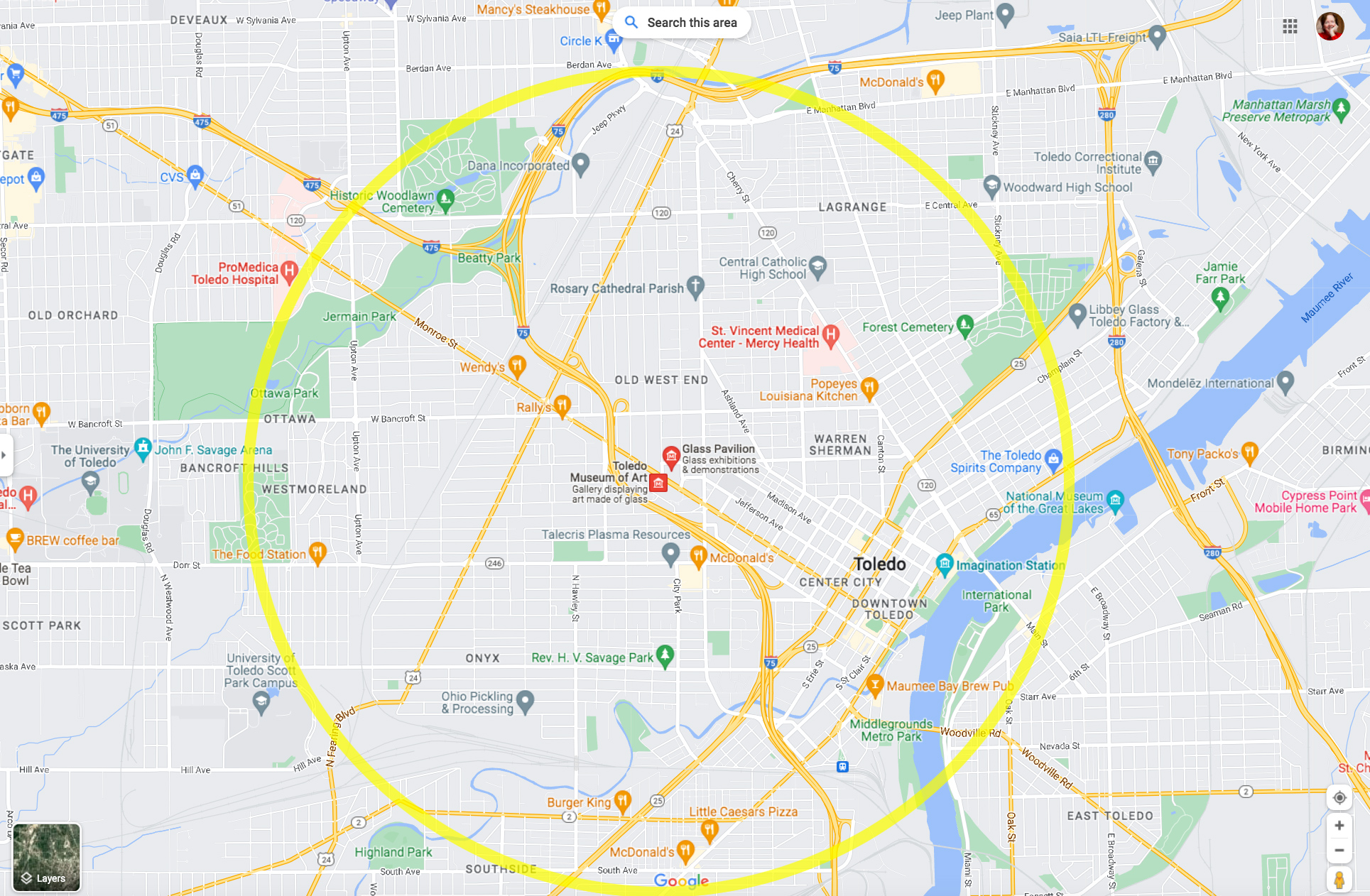 The relentless focus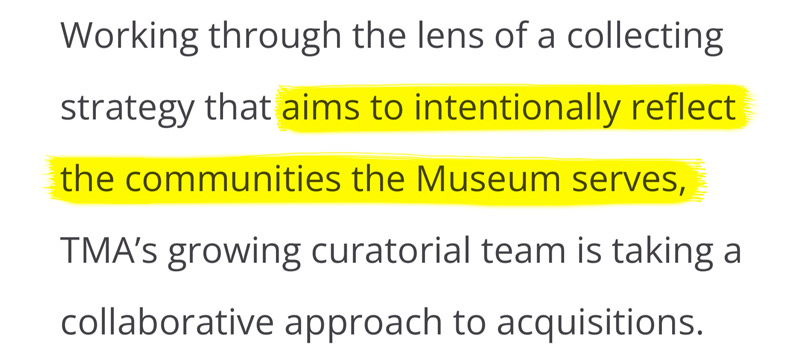 the world we live in? 
In 2014, Erin the President of the Toledo Federation of Art Societies accepted the corruption of the rigged Toledo Area Artists Exhibition by saying, "I tell my students, it's the world we live in."
In 2022, John Stanley told the Blade in regard to the deaccessioning of the three French Impressionist paintings, "It's the world we live in."
Diversity – the perfect cover for selling off the good art… nobody gets to know who it is sold to! And what will be next?
Connecting with the government for political power and personal upward mobility?
Is this what it has come to?
Outsiders are telling our story, remotely, when they don't know us.
The museum only does what looks good on the current grant application.
A museum run by remote control is bad for Toledo.
Jan Wahl's great children's story was appropriated, and he never forgot it. The current stewards of the great Toledo Museum of Art are deliberately erasing the real story of this community as they sell off our great art! Cézanne, Matisse and Renoir, and what is next? Rembrandt? We should not accept what is happening to the museum as if we can't do anything about it, because we can!
Artists of Toledo
What a bunch of B.S. – telling our story! We want our museum back!
To tell the authentic story, see how the Toledo Area Artists Exhibition did it for 96 years. What's more authentic to the community, than art that is made by community artists? There is no better way to help local artists, thus helping the community, than to bring back the annual Toledo Area Artists Exhibition at the Toledo Museum of Art.