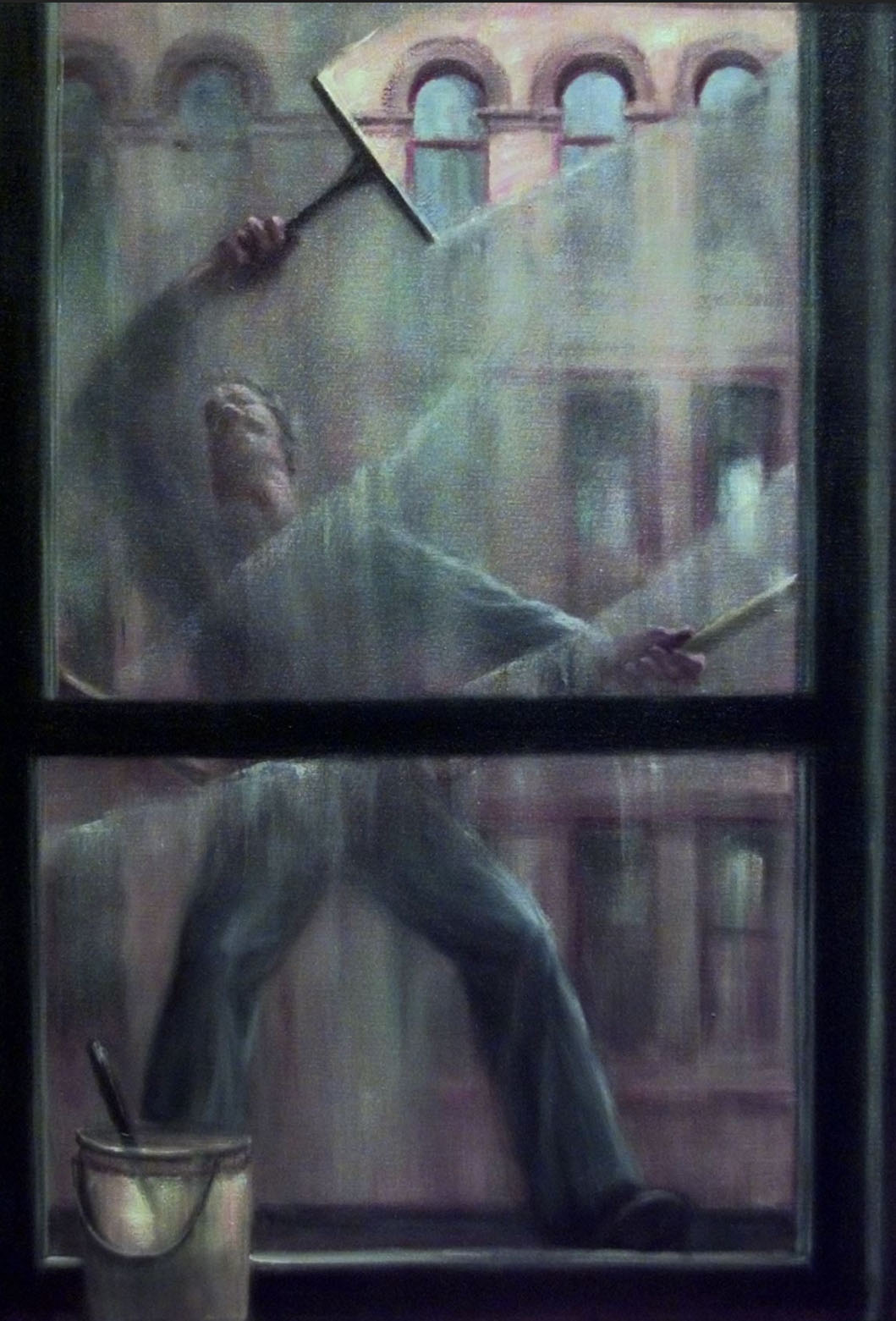 Stephen Kuzma was born in East Toledo and died in the Toledo area. He lived his adult life in New York and Nova Scotia. He had an extraordinary artist's loft in Soho – an entire floor in a nineteenth century cast iron loft building on the corner of Prince and Wooster streets, with seventeen windows – where he lived for nearly 50 years. As a Toledo-born artist, he showed in many Toledo Area Artists Exhibitions. In 2000, he won the Molly Morpeth Canaday Award and in 2001, the Second Award.
Stephen Kuzma painted the buildings and people of Soho. The building in the painting, Window Washer 1 looks like the Puck Building on the corner of Lafayette and Houston. Our studio was up the street. I remember that window washer – he washed our windows. He looked like a character straight out of Dickens, and it was frightening to watch him work.
Stephen Kuzma's paintings are evocative and prophetic, as if they foreshadow a mystery yet to be uncovered.
A review of his work in the 1978 show Aspects of Realism, at the Guild Hall Museum in East Hampton, NY: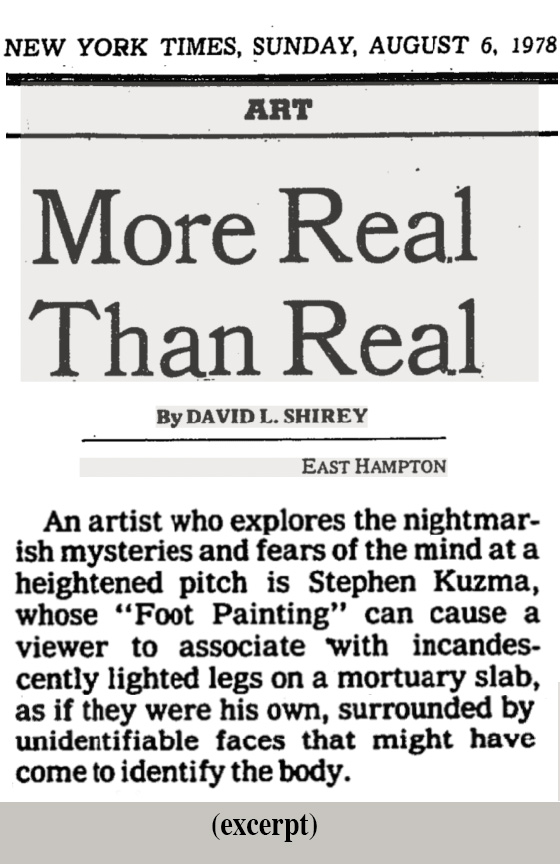 Second Place in the 83rd Toledo Area Artists Exhibition:
Fire Island: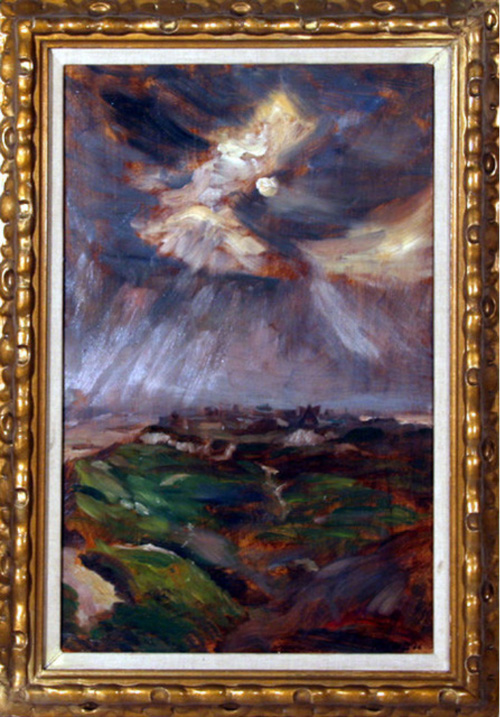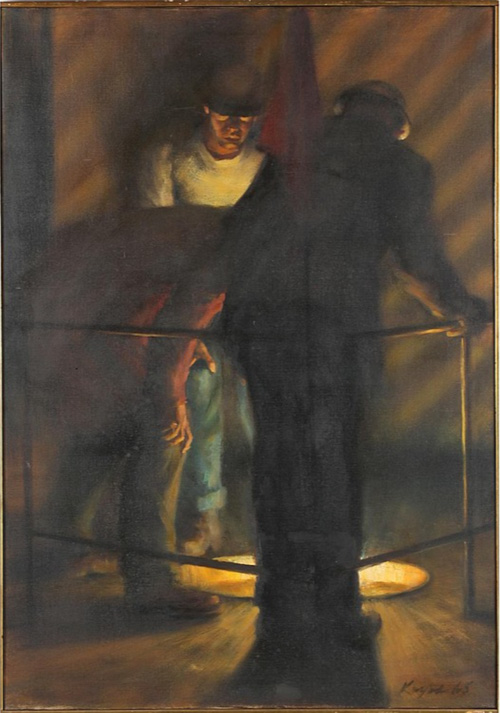 The Blade feature by Sally Vallongo, April 15, 1990:
STEPHEN KUZMA OBITUARY published by The New York Times:
KUZMA–Stephen W., landscape and portrait artist, passed away Friday, January 6, 2023, aged 89 years. An ever-engaging, gregarious soul, Steve shared his open heart and love of art, classical music, good food and congenial company with nearly everyone he encountered. Originally from Toledo, Ohio, Steve arrived in New York City in the 1950s to study under scholarship at the Art Students League and the National Academy of Design. He was a pioneer resident artist of New York's Soho district, and was a regular fixture of its vivid street life for over fifty years. He was an exceptional portraitist and landscape painter, the main subjects of his work being the streetscapes of Soho and the sea, land and people of Digby Neck in Nova Scotia, Canada.
---
Education:
1951-1953 American Academy of Art, Chicago, IL (First Prize Scholarship)
1954-1955 Art Students's League, New York, NY (Scholarship)
1958-1959 National Academy of Design, New York, NY (Scholarship)
US Navy: 1955-1957 Painted 30 ft. mural for Library at Sea Bee Base, many portrait commissions.
Solo Exhibitions:
1960-65 The Fitzgerald Gallery, New York, NY – yearly one-person shows
1966-70 Yearly studio shows
1969 The Fulton Gallery, New York, NY
1974 The Berkley Center, Yale University, New Haven, CT
1976 J. Frederick Lohman Gallery, New York, NY – Landscapes
1977 Capricorn Gallery, Bethesda, MD
1982 Stamford Museum, Stamford, CT
1984 Franklin-Kuzma Gallery, New York, NY – Nova Scotia
1985 Franklin-Kuzma Gallery, New York, NY – Soho Roofs
1986 Franklin-Kuzma Gallery, New York, NY – Night Paintings
1987 Franklin-Kuzma Gallery, New York, NY – Reflections
1988 Market House Gallery, Annapolis Royal, N.S.
1991 Franklin-Kuzma Gallery, New York, NY – Rome, Florence, Sicily
1991 Market House Gallery, Annapolis Royal, N.S.
1992 Synchronicity Space, New York, NY
1993 Franklin-Kuzma Gallery, New York, NY – New York
1994 Franklin-Kuzma Gallery, New York, NY – Watercolors, acrylics & oils
1996 Franklin-Kuzma Gallery, New York, NY – Oils, watercolors & pastels
1999 Franklin-Kuzma Gallery, New York, NY – Oils, pens and wash
Group Exhibitions:
1962 Hirschl and Adler Gallery, New York, NY – Continuing Tradition of Realism
1963 Mortimer Brandt Gallery, New York, NY
1978 Guild Hall Museum, East Hampton, NY – Aspects of Realism
1978 Boston Museum of Fine Arts, Boston, MA
1985 Artist's Choice Museum, New York, NY – Figure in a landscape
1992 Sychronicity Space, New York, NY
1992 Michael Ingbar Gallery, New York, NY
1994 Arts Festival, Annapolis Royal, N.S.
1995 Arts Festival, Annapolis Royal, N.S.
1995 Flight of Fancy Gallery, Bear River, N.S.
1998 80 Washington Square East Galleries, New York, NY
1998 Toledo Area Artists Exhibition, Toledo Museum of Art
1999 Toledo Area Artists Exhibition, Toledo Museum of Art
2000 Toledo Area Artists Exhibition, Toledo Museum of Art
2000 Common Space II, Toledo, OH
2001 Toledo Area Artists Exhibition, Toledo Museum of Art
2003 Toledo Area Artists Exhibition, Toledo Museum of Art
2005 Toledo Area Artists Exhibition, Toledo Museum of Art
Awards:
1959 Suydam Bronze Medal for Painting – National Academy of Design
1964 Louis Comfort Tiffany Grant
1999 Salon des Refuses – Common Space II Award, Toledo OH
2000 Molly Morpeth Canaday Award for Outstanding Painting, Toledo Area Artists Exhibition, Toledo Museum of Art
2001 2nd Prize, Toledo Area Artists Exhibition, Toledo Museum of Art
Public and Corporate Collections:
Edgar Munhall, The Frick Collection, NY; L'Institut Neerlandais, France; CBC Broadcasting, Canada; Coburn Britton, NJ; Leslie-Lohman Art Foundation, NY; Ackland Art Museum, University of North Carolina, NC; Brancaccio Collection, Italy; Troy Corporation, NJ; University of Toledo, OH
STEPHEN KUZMA OBITUARY published in The Blade on January 29, 2023: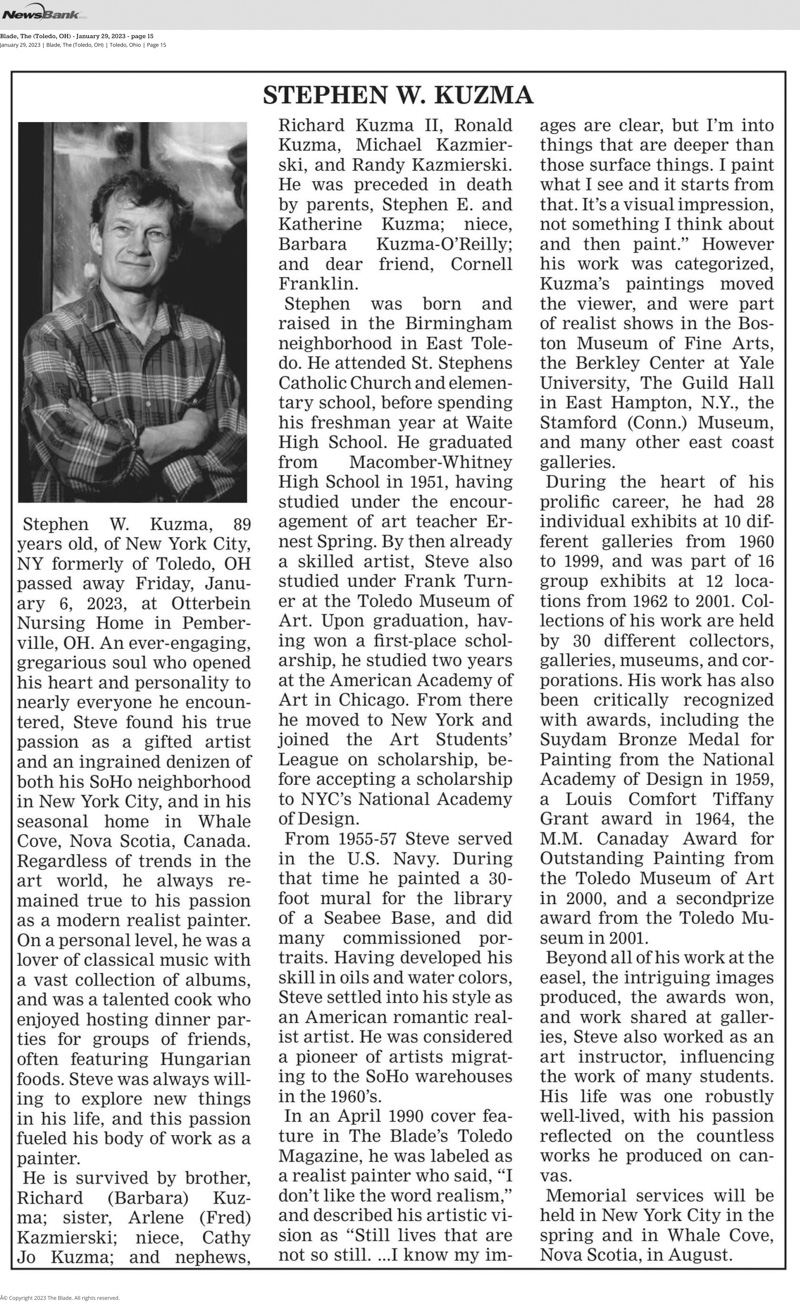 ---
From The Blade news obituary on February 3, 2023:
A collector of Mr. Kuzma's work — and among his champions — was the late Edgar Munhall, curator of the Frick Collection in New York City.

"He's in the great tradition of American romantic realist artists of the 19th Century," Mr. Munhall said in a 1990 news story. "People don't want romantic, beautiful pictures. They want something to make them suffer. But, someday he's going to be recognized."