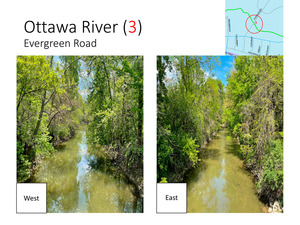 With a camera that photographs the future, here is the gallant Ottawa River, aka 10-Mile Creek, running through our city's beautiful village of Ottawa Hills, shot to support this Petition initiative. The petitioners are pretty cocky to think that they are going to get this petition through, by showing a future photo of this perfect looking river dated September 16, 2021. Oh! But this is our perfect looking river as it really appears today! So what's the problem? Are they trying to make a problem out of something that doesn't exist?  Check out the pdfs for more beautiful photos of the Ottawa River and waterways here and here and here and here and here. Whew! We do have nice waterways we can be proud of, and they appear to be kept up quite well by the actual property owners such as the Metro Parks, The Boy Scouts, the Village of Ottawa Hills and the City of Sylvania without this outrageous proposed tax assessment for unforeseen future work, if these photos are to mean anything to this project at all.
Fall Guys
It would be funny if it wasn't so serious, that two Spencer Township Trustees are trying to get the entire cities of Sylvania and Ottawa Hills, and most of Toledo to pay for their ditch problems, via a Ditch Improvement Petition scheme on the entire "watershed" of the Ottawa River/10-Mile Creek, across two counties.
Notorious
It is still funny because these particular trustees have a notoriously funny reputation. Trustee Shawn Valentine, who has been attending township meetings ever since he was seven years old, sued the township when they voted to replace his township seat when he was deployed in the military. Michael Hood, a seasoned pro who has served as a trustee for decades, is famous for his rants, including this one —
"How did we know he was in the military. I don't know that he's in the military. Everyone is assuming he's in the military, everyone is saying he is in the military. But there is no proof to support that at all." (The Washington Times, January 9, 2016, "Ohio township board votes out trustee deployed with Guard"
– even though at the Spencer Township Trustee meeting right before his deployment, Mr. Hood asked everyone to pray for Mr. Valentine during his deployment.
Shawn Valentine did get his trustee seat back – his case went all the way to the Ohio Supreme Court. It is a head-scratcher.
"Rarely are politicians as blatantly underhanded as two Spencer Township trustees who broke several laws, disrespected America's military members and thumbed their noses to Lucas County voters." The Columbus Dispatch, August 30, 2016, "Editorial: Trustees' scheme was un-American" 
And here they are now, Mr. Hood and Mr. Valentine, apparently getting along fine, and united on a cause… getting the city folks to pay for their rural ditches.
But funny it is not.
Just sign here
From the Spencer Township Trustee minutes of March 4, 2021, the meeting that directly preceded the filing of the petition:
Under the heading of "Pay the Bills" —
Mike Pniewski from the Lucas County Engineers's Office gave a presentation on the cleaning of 10-mile creek. He is petitioning the Board for maintenance of ditch improvements. Resolution 2021-03-04 was read. Trustee Valentine made a motion to accept the resolution. Trustee Anderson seconded. Roll call: 3 yes to 0 no.
Under the heading of "Road"
The Lucas County Engineer's Office sent information to petition the Joint Board of Lucas and Fulton County Commissioner to construct and maintain ditch improvements to the Ten Mile Creek/Ottawa River Watershed.

A virtual meeting with the County Engineer's Office for upcoming projects is scheduled for Friday, March 12, 2021, it will be a virtual meeting.
Then on March 20, 2021, Mr. Hood and Mr. Valentine and Spencer Township submitted a Petition that affects the majority of the landowners in not one but two counties.
From the Spencer Township Trustee minutes of April 1, 2021, the meeting that was directly after the filing of the petition:
Virtual meeting was held with LC Engineers on March 12, 2021
Nothing is documented in the April 1, 2021 minutes regarding the submission of the petition, nor is anything noted for the payment of the $500 bond plus $2 for each parcel of land in excess of 200 parcels — which would add up to be about $150,000 for the cost of the petition that was submitted in the name of Spencer Township, naming 74,644 parcel owners as "benefiting." Hmmm……….. seems like a big action, as well as a big expense, for Spencer Township to leave it out of their minutes.
The bond is to cover the expense of the notifications. At two dollars per parcel owner, why didn't Lucas County send official letters? The county cut corners by sending the landowners a notice in the form of a postcard, instead of in a letter that is clearly marked on the envelope, "Legal Notice" that would have been taken much more seriously by the 125 thousand landowners it will affect (including the recipients in South Toledo who are victims of the duplicate petition filed the same day by the neighboring village of Whitehouse for the "Swan Creek Watershed.") Doesn't the Ohio Revised Code specify that all petition notifications shall be in the form of a letter with the envelope so marked? Many people ignored the postcard, as it was casual, and you don't have a clue why you would get it if you don't live on 10-Mile Creek. That's what we thought at first, and so did our friends. I venture to speculate that this sneaky petition is huge for Lucas County, in that it is directed to the largest group of people in twenty or forty years. Just a guess, judging from the very few tax assessments on our tax bill. Why didn't Lucas County do it right? The answer seems obvious.
A quid pro quo?
Had the two Spencer Township trustees been they buttered up with the Lucas County Drennan Ditch project grant for $200,000 from the Great Lakes Commission's Great Lakes Sediment and Nutrient Reduction Program  to fix 2.25 miles of the ditch that runs through their properties?
Also in the April 1, 2021 Spencer Township minutes is this report under "Correspondence":
Spencer Township will be the lead agency to bid and award any crack seal work located in and around the Township. The Lucas County Engineer's Office will prepare the necessary plans, bid documents, specifications and construction estimates.
Did Lucas County Engineer Mike Pniewski manipulate Spencer Township to put their names on a petition that did not really come from Spencer Township? Sure looks that way.
A blank check
Is this all a scheme to make a lot of money for the department, a result of Mike Pniewski's zeal to "grow our economy?" Mike Pniewski is quoted in a Toledo Blade article from last April:
"I see myself as the chief infrastructure officer of the county," Mr. Pniewski said. "I need to get as much money into the county as we can, to grow our economy and grow our competitiveness." The Blade, April 21, 2020, "New position marks move closer to home for Lucas Co. engineer"
I don't hear him saying, to clean up the environment.
How fair is that to the population of Toledo, Sylvania, and Ottawa Hills who are essentially being told to give the county a blank check, if not the keys to their house, for their entry any time for anything they decide they want to do something to a creek, river, pond, or ditch on or by their property?
Seems like it is not the Lucas County engineer's job to dream up tax assessments for us. Petitions for ditch improvements normally come from a citizen or entity and are limited to a specific legitimate need — not from the Lucas County Engineer himself, who seems to have economic growth and competition on his mind. Public officials are fiduciaries of our trust and best interest, after all. We elect them to serve us, not so we can serve them.
Hoodwinked
It appears that the origin of the scheme to put an eternal tax assessment on work yet to be needed on countless miles of ditch and rivers in Lucas and Fulton Counties did NOT come from Spencer Township, it appears that the Spencer Township Trustees got hoodwinked into doing this for Mike Pniewski, and we in turn are getting hoodwinked by their unsavory political shenanigans.  A hoodwinking that can go on forever and ever….
Are we going to let them do that?
So Conflicted!
Recorded in the minutes of the November 5, 2020 Spencer Township meeting, Trustee Hood stated that he would not put a levy on the ballot, especially in the current financial status of the country. But apparently Mr. Hood doesn't care if homeowners are simply assessed extra taxes for this sweeping, multi-county ditch improvement that is undefined in specificity but unlimited in scope.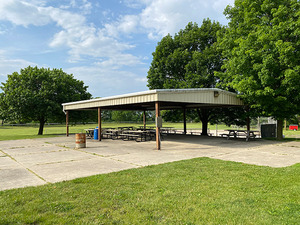 And need I mention, the world is experiencing a pandemic. Lucas County's big push now is to get our community vaccinated, as we lag in percentage of vaccinated population compared to the rest of the country. Listen to the county's plans here —  The Lucas County Commissioners still have virtual meetings!  But as many as 75,000 landowners (and their spouses) received official notifications from the county to publicly gather for the first "view" and hearing at a venue that has a couple of picnic tables and one porta-potty. Doesn't look like much of a venue for a "show and tell" for a community of 100,000 people, does it?  but then does the county really expect anyone to show up? Because they think this is a slam-dunk!  Hope it doesn't rain…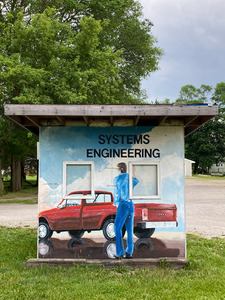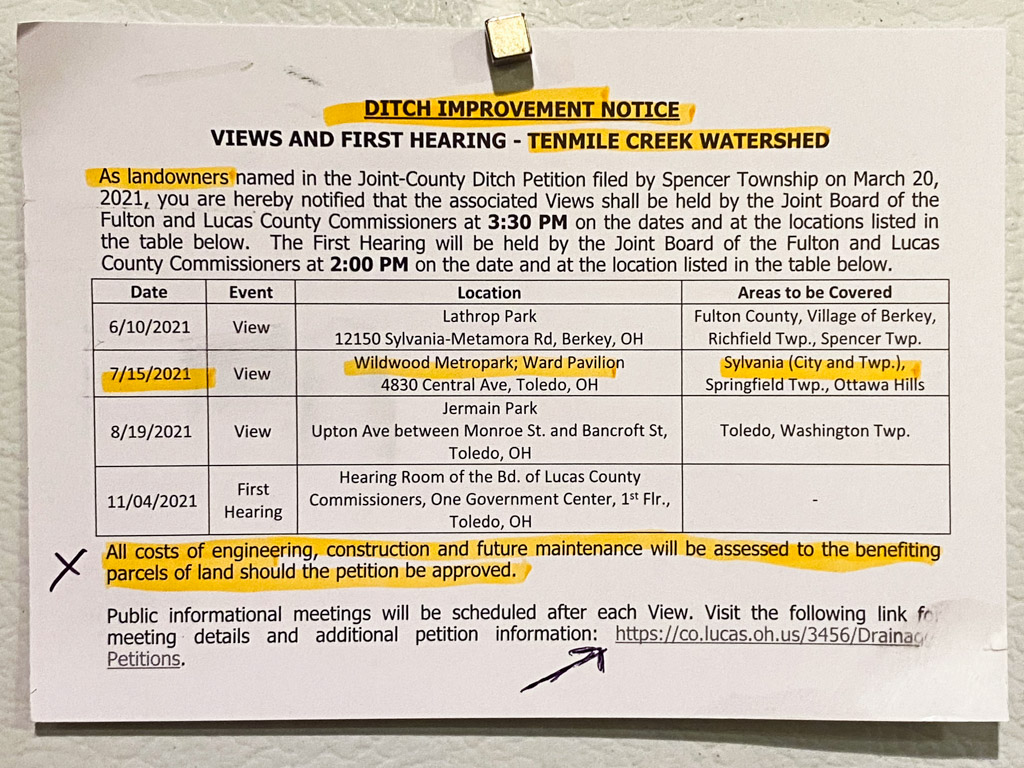 At least with a tax levy on this sweeping "watershed theory" proposal (so clever!) that the Lucas County Engineer has in mind for us, we could get to discuss, and we could get to vote.
---
Penny Gentieu                     June 5, 2021
Stay informed by following my new Facebook page on this subject, Toledo Now