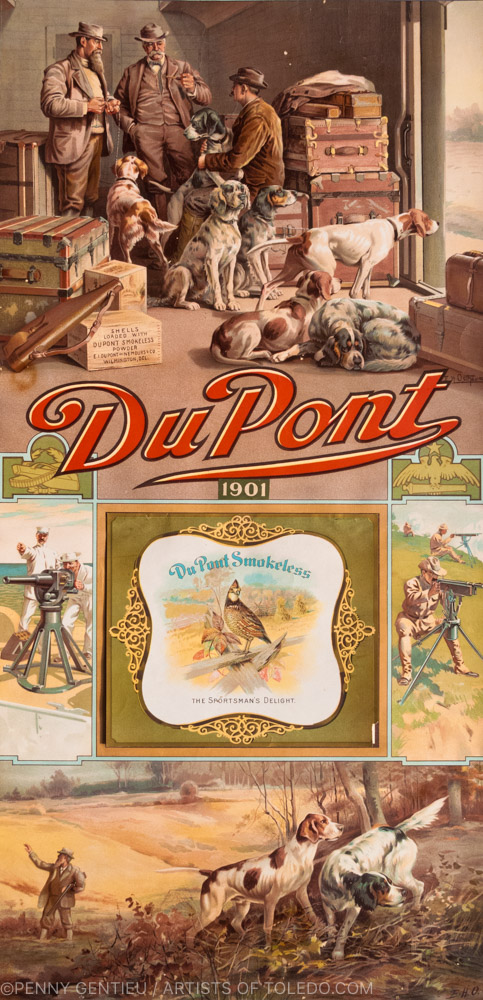 Over Thanksgiving, on our way to Princeton from Baltimore, we stopped at the Hagley Library in Wilmington Delaware to look up one of Toledo's most famous artists, Edmund H. Osthaus, painter of dogs. The Hagley is renown for its archives of early American industry, centering upon the history of America's first large corporation: The Du Pont Company. Next to the library is the Hagley Museum. It's more like a living museum, consisting of Du Pont's large village of restored nineteenth-century powder mills and yards.  The Du Pont Company manufactured explosives and gunpowder.
Back in 1992, it was The Hagley Museum and Library where I first experienced the joys of historic research, and where I became hooked. My initial contact with the library came soon after I learned that my great great grandfather, Pierre Gentieu, was a photographer. The library owns his photo collection. I called the library and the pictorial curator, Jon Williams, sent me xeroxed pages from a book regarding Pierre's photos and his work for Du Pont. He said that Pierre's photographs were integral to the restoration of the Hagley Museum in the 1950's. I surmised that Pierre was considered a bit of a rock star at the Hagley. Because of Pierre, I felt like they rolled out the red carpet and that was pretty cool! It was a great beginning to a long and fascinating journey into the research of my photographer ancestor.
It felt similar last week after I enquired about Edmund Osthaus. My last-minute email to Max Mueller, imprints curator at the library, asking to research Edmund Osthaus the following day resulted in a rolling cart carrying folders of original source documents and precious items from the pictorial collections, as well as introductions to the new administration director, Joan Reynolds Hoge-North, and to Debra Hughes, the curator of the museum (incidentally, who is not only from Michigan but from Ann Arbor as well, my favorite getaway close to Toledo.) My research at the Hagley has only just begun…
Edmund Osthaus, who came to Toledo in 1886 at the invitation of David R. Locke (creator of the Petroleum V. Nasby letters) to head up the brand new Toledo Academy of Fine Arts, who then became a charter member of The Tile Club group of artists that dreamed up the Toledo Museum of Art, was in his 30's in the 1890's when Du Pont first commissioned him to create paintings of hunting dogs for advertisements for their new product, "smokeless" powder. Osthaus and Du Pont enjoyed a prolific association for about 20 years until around the time of WWI when Du Pont transitioned from manufacturing explosives to chemicals. Du Pont used Osthaus's watercolor and oil paintings for postcards, signs, calendars and reproductions that were displayed in hunting lodges and clubs across the country. This exposure undoubtedly did quite a bit to boost Osthaus's fame. I'm curious, how exactly did it happen?
Among the archives at the Hagley were handwritten letters from Osthaus's son Franz and other relatives. I learned that Nina Stevens, the assistant director and wife of George W. Stevens, the first director of Toledo Museum of Art, and Osthaus's wife, Isabel Carlton were cousins, and there was a suggestion of a rift with the Toledo Museum that apparently only Franz would know. Juicy!
The Hagley Museum and Library is a very cool place. Not only was it key to my discovery of a personally significant link to an ancestor, but now I find it to be the repository for a cache of information on an important "branch" of Toledo's communal artistic family tree. My Pierre project lasted a good 15 years, resulting in a manuscript and "maquette" for a book that I hope someday to publish. Working on Artists of Toledo.com conjures up all the wonderful feelings I had working on my ancestor project, and I don't even have to worry about getting it published as a book because as a "work in progress" website, it's an ongoing publication that is instantly accessible to the world, yet could be a never-ending project for me. I consider it my giant Pierre project.
(I wonder if Pierre ever met Edmund Osthaus, after all, Pierre worked in the Du Pont office until his retirement in 1912. That would be amazing! Okay, I admit, it would be amazing only to me!)